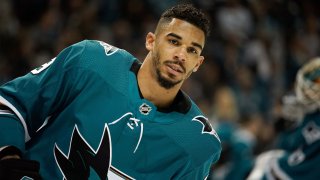 Sharks winger Evander Kane was fined the maximum of $5,000 on Wednesday for elbowing Capitals defenseman Radko Gudas in San Jose's 5-2 blowout loss on Tuesday night.
San Jose's Evander Kane has been fined $5,000, the maximum allowable under the CBA, for Elbowing Washington's Radko Gudas.— NHL Player Safety (@NHLPlayerSafety) December 4, 2019
Kane was ejected Tuesday night after delivering a dangerous elbow to Gudas' head with 5:01 left in the third period.
Kane was given a major penalty for this hit. pic.twitter.com/qGTfUhxN3Z— Sharks on NBCS (@NBCSSharks) December 4, 2019
Washington winger Tom Wilson was seen chirping with Kane and Sharks center Joe Thornton all the way to bench.
Wilson escorts Kane off the ice pic.twitter.com/pQhSZQM4lA— NBC Sports Capitals (@NBCSCapitals) December 4, 2019
"It's a high hit. It's a reviewable penalty. The league will deal with it from there," Capitals head coach Todd Reirden said after the game, via ESPN's Greg Wyshynski. "But it's the type of stuff we're working to remove from the game."
This isn't the first time Kane has been disciplined by the league this season, too. He was suspended for the first three games of the regular season for abuse of an official.
[RELATED: Sharks' defense at forefront of lopsided loss to Captials]
The NHL opted to fine Kane this time, though the league is sure to have its eyes on Kane in the future for further incidents.
Copyright C