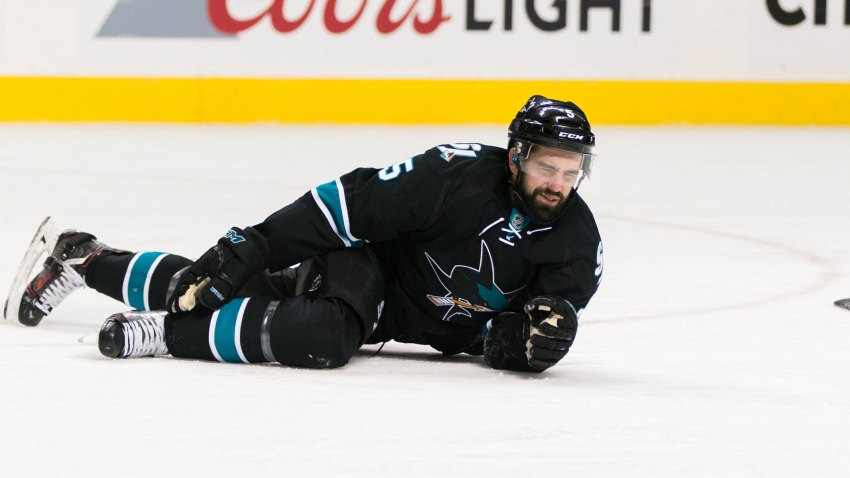 SAN JOSE – David Schlemko's right ankle injury isn't expected to keep him out long term, but the defenseman's status for the two Sharks games this weekend is in question.
San Jose faces Anaheim on Friday at Honda Center, and returns home on Saturday to host the Hurricanes.
"I would say doubtful for tomorrow, but getting better," DeBoer said on Thursday.
Schlemko skated for the first time on Thursday at the Sharks' practice facility since getting hurt in the Canadiens game last Friday. He returned in the third period after going down in the second, but quickly realized it was still too sore.
"It didn't feel that bad once I came off and the x-rays were negative, so I thought I was fine to go [back in]," he said. "It started to hurt again late in the third, so I shut it down.
"The next morning when you wake up and all the adrenaline is gone, it obviously hurts a lot more. We got the MRI and everything looks like it should be pretty good. Nothing long-term. I don't think [I'll miss] anything past this weekend, at the most. Hopefully I can get in for one or maybe both this weekend."
In 24 games, Schlemko has five assists, 44 shots on goal and a plus-two rating.
Dylan DeMelo would remain in the lineup if Schlemko can't play against Anaheim. Mirco Mueller, who was called up on Wednesday, was reassigned to the Barracuda on Thursday morning.
The Sharks had yet to decide if anyone else would be recalled for the trip to Anaheim, according to DeBoer.
"We're going to meet with [GM Doug Wilson] here right after and see what our numbers are," DeBoer said.

Copyright CSNBY - CSN BAY