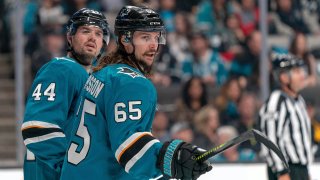 When the Sharks acquired star defenseman Erik Karlsson from the Ottawa Senators in September 2018, they made sure he wasn't just a rental. Sharks general manager Doug Wilson had long-term plans for his team and Karlsson.
Wilson proved how badly he wanted Karlsson to stay in San Jose by signing him to a record eight-year, $92 million contract this past June. Despite Karlsson being a two-time Norris Trophy winner, the contract didn't come without scrutiny for its length and dollar figures.
"I never judge or value other contracts or how other people do their jobs, but I know this: If we hadn't signed Erik, there would have been 20 teams lining up to pay him," Wilson said to The Athletic's Pierre LeBrun in a recent interview. "He's a special, special player, as is Brent Burns. Those players are going to get their money."
Karlsson struggled with injuries during his first season with the Sharks, but he still managed to post 45 points (three goals, 42 assists) in 53 regular-season games. He recorded 16 points (two goals, 14 assists) in 19 playoff games, which ranked second on San Jose.
Karlsson didn't play in the Sharks' season-ending loss in Game 6 of the Western Conference final to the eventual Stanley Cup champion St. Louis Blues after aggravating his groin in Game 4 and playing just 10:32 in Game 5.
When Karlsson did play, the Sharks went 30-23 in regular-season games and 10-9 in the playoffs.
"You look back last year when Erik was 100 percent healthy, his performance for about two months was as good as I've ever seen," Wilson said. "I give him a lot of credit. He went back to get the proper surgery (in the offseason) to now be 100 percent and his last couple of games, just watching him play, his game makes us a better team."
The 29-year-old underwent groin surgery in the offseason, but the only game he has missed this season was to be there for the birth of his child.
Through 27 games, Karlsson has scored 21 points -- three goals (tied for his total last season) and 18 assists -- this season, good for 0.78 per game, which is down from his 0.85 points per game average in 2018-19. But his 6.5 percent shooting percentage is way up from last season's career-low of 1.8.
[RELATED: Sharks set up to make move in standings]
Karlsson seems to be coming on strong lately, scoring five points in the Sharks' last four games in 12 over 15 games in November. He looks to be regaining his strength on the ice, and it's clear the Sharks have one of hockey's premier stars.
Adding the defenseman for years to come is a move Wilson never will second-guess.
Copyright C