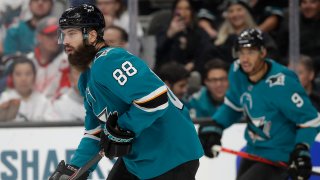 Just four days into December, the Sharks are facing a new level of adversity. They suffered a disappointing loss to the Washington Capitals on Tuesday night and are dealing with some injuries at forward that are keeping the position in flux.
To top it all off, San Jose is about to begin a four-game road trip, three games of which are against Eastern Conference teams. And the last time the Sharks went on a roadie out east, things didn't exactly go well.
In order for the Sharks to keep their good fortunes going, they must pass this test.
"Good teams, tough buildings, a big test," head coach Peter DeBoer said after Tuesday's loss when asked about the upcoming trip. "Our last time on an extended trip we didn't handle it well. So, hopefully, we're in a different place this time."
When you look at the big picture, the Sharks are in a better place than they were at the end of October, when they went 1-3-1 on their east-coast swing. San Jose staged a big rebound in November, showing it could win games in different ways and stand toe-to-toe with just about anyone. After going 4-8-1 in October, the Sharks went 11-4-0 in November and reinserted themselves back into the pack with the other competitive Pacific Division teams.
Nevertheless, the Sharks' upcoming trip -- which kicks off Thursday in Carolina against the Hurricanes and includes a back-to-back against the Lightning and Panthers -- isn't going to be a cakewalk. After the rough outing San Jose's defense had Tuesday against the Capitals, the trip looks even more daunting.
"It's not getting any easier," Brenden Dillon admitted Tuesday. "We're going into some tough buildings. A couple of back-to-backs here with Tampa and Florida. I think we're seeing if we don't play to our identity, if we don't play the right way, what happens."
The Sharks' defense isn't the only area of concern following the loss to Washington. San Jose was starting to see some production from its bottom six at the end of November, but injuries to Tomas Hertl and Antti Suomela are forcing the Sharks to shuffle up their lines yet again. Even with fourth-liners Dylan Gambrell and Noah Gregor finding their stride and contributing more, San Jose's mission to have a four-line team on the ice every night remains an ongoing project.
[RELATED: Kane fined $5K for elbowing Gudas in Sharks' blowout loss]
This isn't to say that the Sharks can't rebound from their loss to the Capitals and have a successful road trip. Their resilience was on display just last week when they bounced back from a tough loss to the Jets to win back-to-back games against the Kings and Coyotes. Plus, Carolina is the only team on the trip that currently has more points than San Jose, and the Hurricanes have lost three of their last four games, including a 2-0 shutout at the hands of the Boston Bruins on Tuesday night.
Still, though, the Sharks can't afford to play as they did against the Caps on their upcoming road trip. San Jose is about to encounter a major test, and class is in session starting Thursday.
Copyright C