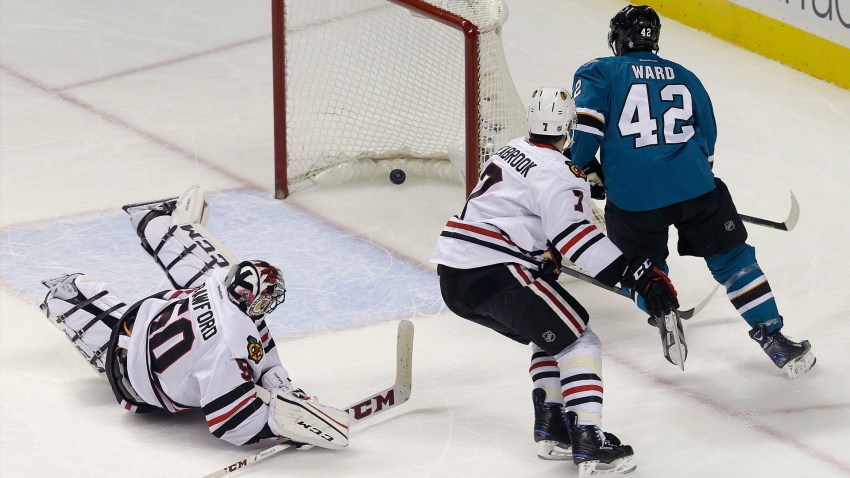 SAN JOSE – In a game as evenly matched as the Sharks-Blackhawks meeting was on Wednesday night at SAP Center, all it takes it one little mistake to affect the outcome. Fortunately for San Jose, the key slip-up occurred on the Chicago side.
On a Blackhawks power play, Brent Seabrook dove at blue line to try and keep a Chris Tierney clearing attempt in the offensive zone. He missed. Goalie Corey Crawford had time to come out to play the loose puck that was headed in his direction, but never vacated his crease.
Joel Ward charged ahead, taking control of the puck slipping a shot through Crawford for a shorthanded breakaway goal at 14:42 of the first period that turned out to be the game-winner in a 2-1 Sharks triumph.
"[Crawford] might have hesitated. Thank goodness he didn't [come out]," Ward said.
While Crawford made some key saves at other moments throughout the game, finishing with 33 total, Martin Jones was just a little bit better on the other side. Jones allowed a goal to Artemi Panarin on a blistering one-timer midway through the second period, but made several point blank saves throughout the duration. He's now stopped 59 of 60 shots through the first two games of the Sharks' five-game homestand, including a shutout on Monday against New Jersey.
"Huge saves," Pete DeBoer said. "He's one of our best players. When he's on, we're a very hard team to beat."
After struggling at SAP Center last season in his first year as the Sharks' number one, particularly in the early going, Jones is now 6-2 at home this season with a 1.50 goals-against average and .940 save percentage. He's perhaps the biggest reason the club is quickly forgetting about last season's sub-.500 record on home ice.
"I'm not doing anything different, I don't feel any different," Jones said. "We're getting the results a little more [at home]."
The Sharks have struggled for consistent offense at what is essentially the quarter-pole, but their defensive game has been mostly consistent. They allowed 34 shots to Chicago, but it was only the third time this season they've surrendered more than 30 in a game.
Although the Blackhawks haven't exactly been lighting it up lately, and were without captain Jonathan Toews for the final 35 minutes for reasons that weren't immediately known, holding them to just one score is an accomplishment.
"I'd take 2-1 games for the rest of the year if we win them," Marc-Edouard Vlasic said. "Sometimes you'll need that. Playoffs you'll more likely need those types of games. Against a good offensive team, to keep them at one is really impressive."
DeBoer said: "The goals haven't been easy to come by. Let's be honest, in the playoffs they're not either. There's a lot of 2-1 games. You have to be comfortable in those games. I think our group is."
The Sharks were thrown a monkey wrench just before game time when defenseman David Schlemko fell ill, meaning Dylan DeMelo would dress for the first time this season. He didn't have much time to prepare, either, finding out just 20 minutes before warmups.
Although he made one misplay in the first period when his point shot was blocked by Tyler Motte, who promptly raced ahead on a partial breakaway, DeMelo was praised profusely by his coach afterwards for his performance in 13 minutes and 26 seconds of ice time.
"I thought Dylan DeMelo did an unbelievable job," DeBoer said. "To sit around for two months, and hasn't played a game since training camp. To jump in against that team and play the minutes he did and be as effective as he was is a great testament to him."
DeMelo admitted that sitting out so long has been "extremely tough. I don't have a recipe for it, it's really tough to be out that long and come in, but I've been working hard with [the assistant coaches] to stay in game shape, and they're always in my ear to work on things. I felt pretty prepared."
The Sharks will enjoy a day off for Thanksgiving before resuming the homestand on Friday afternoon against the Islanders.
"It's a big win here, second game at home, and [we'll try to] put a little something together," Joe Pavelski said.
Copyright CSNBY - CSN BAY