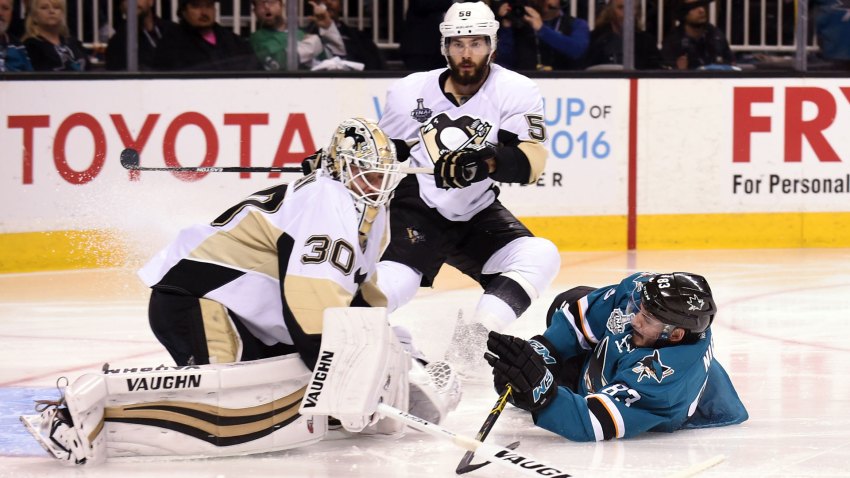 SAN JOSE – Some disturbing lapses have cost the Sharks in back-to-back losses to Arizona and Calgary.
The second period of the Coyotes game on Tuesday night, and the first period against the Flames on Thursday resulted in a pair of 3-2 San Jose defeats to clubs that simply aren't as good as they are on paper.
Perhaps it's a good time, then, for the Pittsburgh Penguins to visit SAP Center on Saturday. The Sharks know they'll have to be geared up from the drop of the puck if they want any shot at knocking off the club that ruined their championship dreams last June, and is once again one of the best teams in the league at 7-2-2.
"I think sometimes you expect certain things to happen when you play certain teams, which we shouldn't," Paul Martin said. "With Pittsburgh, you have to prepare like it's the best team in the league. You have to earn everything that you get, so you have to come ready to play. You need everybody."
Pittsburgh has already knocked off the Sharks once since raising the Stanley Cup at SAP Center last June 12. The Penguins erased a 2-0 third period hole to score three times before the end of the frame, stunning the Sharks at PPG Paints Arena on Oct. 20, 3-2.
"Gave up a lead in the third. Sat back, and they came after us," Logan Couture recalled. "We're focused on ourselves right now. We've got to play better, and that's what we're going to focus on going into [Saturday]."
The most impressive aspect of that win for the Penguins two weeks ago is that they did it without arguably their two best players, Sidney Crosby and Kris Letang. Both are back and expected to play on Saturday.
"Two of the top players in the league at their position," said Martin, a former teammate of both. "Able to create so much on their own, and change aspects of the game. It's one of those things that for us it will be a team effort and we'll need everyone to be on their game and make sure that we stay sharp."
Crosby is off to an impressive start after missing the first six games of the season with a concussion. He has six goals, tied for the team lead with Evgeni Malkin, and eight points in just five games.
Couture got to know the reigning Conn Smythe winner at the World Cup of Hockey, as both were a part of the victorious Team Canada. He came away impressed with the 29-year-old both on and off the ice.
"He's the best player in the world. He does everything so well," Couture said. "The puck follows him around, he's strong on it, you can go on and on all day about all the things he does well. He's tough to play against."
"He hung out with the guys from the Sharks actually, quite a bit. We got along well, him and all the other guys on our team. Great guy, humble, down to earth. Easy to get along with."
Should be easy to get up for playing against Crosby and his teammates, too, as the Sharks try and put an end to their two-game losing streak.
"If you don't, you're going to be in trouble against that opponent," DeBoer said. "We know our game, we know when we're not playing our game for long enough periods. We have to get back to it, it's that simple."
Copyright CSNBY - CSN BAY