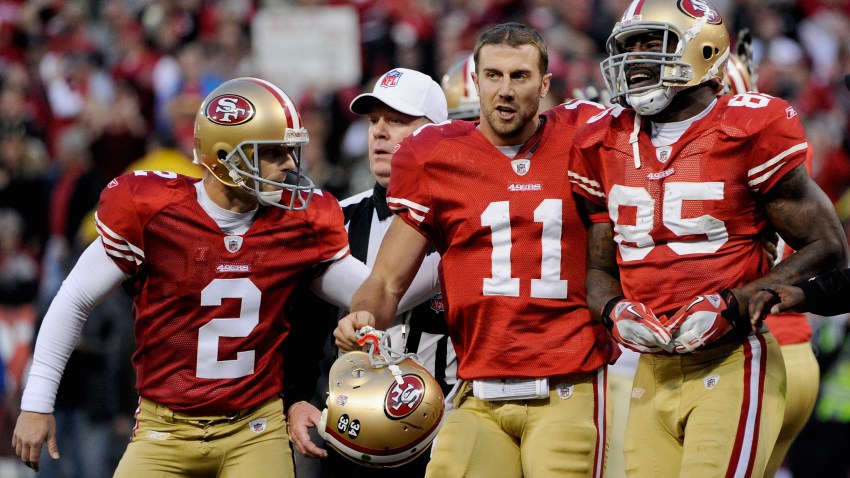 First came "The Run," then came "The Pass."
Then came a ticket to the NFC Championship Game for the San Francisco 49ers, who rallied twice late in the fourth quarter Saturday – thanks to some heroics by quarterback Alex Smith -- to beat the New Orleans Saints 36-32 in a wild divisional-round playoff game at Candlestick Park.
It was Smith in the week leading up to Saturday's game who said he wasn't concerned about trying to match the yardage and stats of Saints' record-setting quarterback Drew Brees.
"I'm looking to outscore him," said Smith, adding there "are a lot of different ways to win games in this league."
And late Saturday afternoon, as dark descended over San Francisco, Smith's words proved prophetic.
After the 49ers took an early 17-0 lead, the Saints' battled back, finally taking their first lead with just over four minutes left in the game, 24-23, when Darren Sproles took a short Brees pass and broke away for a 44-yard TD.
The score set in motion a wild, back-and-forth finish and a dramatic 49ers victory.
First, Smith – maligned for most of his career in San Francisco for not living up to his status as the No. 1 overall pick of the 2005 draft – marched the Niners from their own 20 to the Saints 28.
From there, on third-and-8, the Niners called Smith's own number, and he rolled left and then broke upfield along the sideline for a 28-yard scoring run, the longest TD run by a 49ers quarterback in playoff history. Thirty years after Dwight Clark's "The Catch" sent the Niners to the Super Bowl, it appeared "The Run" had put San Francisco in the NFC Championship Game in its first playoff appearance since 2002.
But, after the Niners' two-point conversion attempt failed – leaving San Francisco with a 29-24 lead – the Saints quickly answered, scoring on a 66-yard pass play to Jimmy Graham and adding a two-point conversion to go up 32-29 with 1:37 remaining.
Smith and his teammates, however, weren't about to let their Cinderella turnaround season end.
Smith hit Gore for 7 yards, then Gore for 11 more before a throwing perfect strike to tight end Vernon Davis for 47 yards that put the ball on the Saints 20 with 40 seconds remaining. Already within field goal range, the Niners didn't play for one.
Instead, Smith hit Gore for 6 yards to the 14, spiked the ball to stop the clock, then rifled a perfect throw to Davis in coverage for a touchdown and a 36-32 lead with just nine seconds remaining.
It was an emotional moment for Davis who, much like Smith and Gore, had never been in a playoff game after so many woeful seasons in San Francisco. Davis – who had seven catches for 180 yards and two TDs -- came to the sidelines in tears, where head coach Jim Harbaugh wrapped him in a bear hug.
After the Niners held off the Saints' final desperation play, Candlestick erupted in celebration. The Niners – a home underdog to a Saints team that had reeled off nine straight wins and looked unstoppable – had matched New Orleans punch-for-punch in the fourth quarter to earn a matchup next weekend against the winner of Sunday's Green Bay-New York Giants game.
If the No. 1 seeded Packers win, the game will be in Green Bay. If the Giants win, the second-seeded Niners will be the host.
For Smith, who did everything he needed to do, Saturday's performance was the highlight of a career that has been marked by far more jeers then cheers.
Even while guiding the 49ers to a 13-3 regular-season record, doubters remained.
But on Saturday, Smith completed 24-of-42 passes for 299 yards and three TDs, without an interception, plus won the game seemingly twice, once with his legs and then, finally, with his arm when he connected with Davis.
Though the 49ers's defense again did what it does best – it took the ball away from the Saints five times – it could only slow, but not stop, the New Orleans offense.
In the end, it was the 49ers' comeback that will be remembered from Saturday's victory, and a couple of brilliant plays from a quarterback nobody expects to make them.