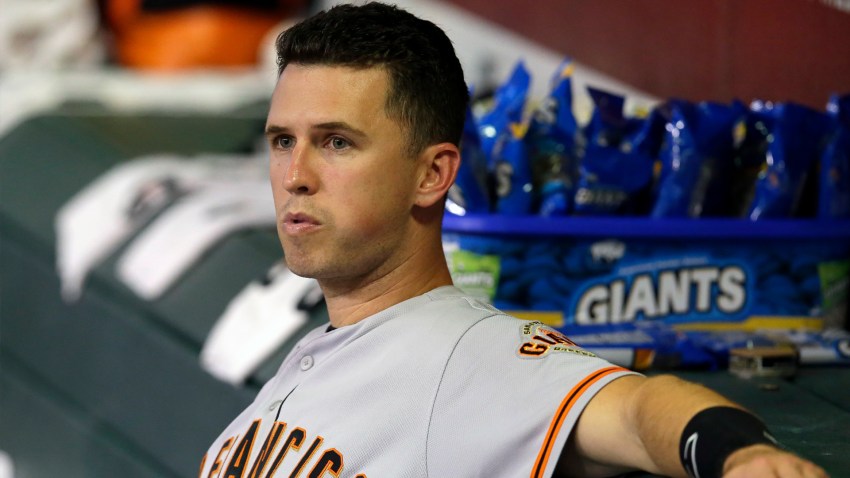 NEW YORK - The Giants haven't given up on this season yet. When they officially do, putting players through waivers won't be the biggest decision they make.
The organization expects Buster Posey to have season-ending hip surgery at some point, a source confirmed Tuesday night. The San Francisco Chronicle was the first to report Posey would have surgery to repair his labrum and clean out bone spurs.
The Giants are determining the timing of the surgery, and they are not quite ready to shut Posey down. Even after a sweep in Cincinnati over the weekend, the organization wasn't all the way to the point of waving a white flag. Before Tuesday's game, manager Bruce Bochy said Posey was scheduled to start behind the plate Wednesday night.
Posey, 31, has been dealing with hip discomfort throughout the season and skipped the All-Star Game to get a cortisone injection. The treatment did not lead to an increase in his numbers. He has not homered since the injection and has just three extra-base hits in 92 second-half at-bats. Overall, Posey, with an inability to use his lower half to drive the ball, is slugging just .386, the lowest mark of his career. He has five homers and just 40 RBI, and his .747 OPS is his lowest in a full season by 50 points.
The Giants entered play Tuesday 7 1/2 games out of first in the National League West and five games out of third place. With 36 games to go, that's a borderline impossible climb, but the schedule remains soft with two more against the Mets and a weekend series against the Rangers. The first-place Diamondbacks come to town next week, followed by three more with the Mets.
After the brutal weekend against the Reds, the Giants put Andrew McCutchen on waivers. That appeared to be the beginning of a partial teardown, but a source said no trade was imminent as of Tuesday night.

Copyright CSNBY - CSN BAY