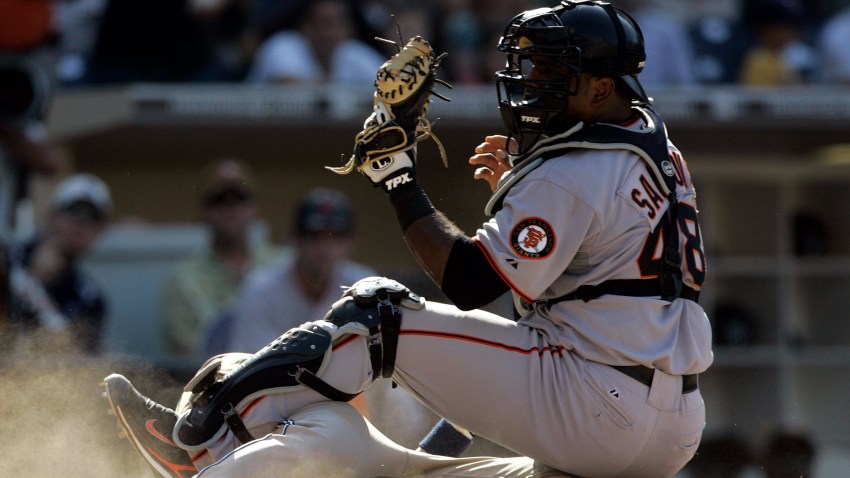 SCOTTSDALE - On his first day in camp, Pablo Sandoval showed reporters that in addition to his third base and first base gloves, he was breaking in a catcher's glove. That was enough to get Sandoval, the emergency catcher this season, signed up to squat for a few bullpen sessions this spring.
"He showed me the glove," manager Bruce Bochy said. "That's all I need."
Sandoval is also carrying an outfield glove this spring ...
"He doesn't need to show me that glove," Bochy said quickly.
It turns out Bochy actually has seen Sandoval play the outfield. The two went to Taiwan with other big leaguers a few years ago to play exhibition games and Sandoval wanted to try the outfield. A line drive was hit into the gap and Sandoval didn't move, simply looking at center fielder Curtis Granderson, who went and chased it down.
Sandoval caught 176 games in the minors but admitted it has been a while since he has even caught a bullpen session. Bochy said that history does not make Sandoval any more likely to actually catch in a game, but he certainly is more qualified than Bochy's past emergency catchers. When Buster Posey got dinged up early last year at Coors Field, Bochy said his emergency guy would be Aaron Hill.
"He just found out today that he's our third catcher," Bochy joked that day.
--- Sandoval and Kelby Tomlinson came to camp with a leg up on others for bench spots, and Bochy said Tomlinson will get a lot of work at shortstop this spring. That's key for his job security, as the Giants don't really have a solid backup option there since Eduardo Nuñez remains in Boston. Chase d'Arnaud, Josh Rutledge and Alen Hanson are among the veterans in camp fighting for that job. Hanson has been an early standout because of his speed.
--- Ty Blach will start the Cactus League opener on Friday and Madison Bumgarner will start Sunday, but the rest of the schedule hasn't been revealed yet. Some members of the rotation are on different schedules. Jeff Samardzija will throw a live BP session on Friday and Johnny Cueto will throw his second bullpen session Thursday. He was slowed by the flu a couple weeks ago.
--- If you're coming out to Scottsdale this weekend, don't expect to see Posey or Evan Longoria. Posey will sit at least the first three games and it sounds like Longoria will, too. Because there is less than a week between reporting day and the first game, MLB isn't being strict on the rule that says you have to have four starters in the lineup. Bochy intends to take advantage and give his older players plenty of rest.
--- Julian Fernandez is all ready to go after cutting his finger a few days back. Fernandez is a Rule 5 pick, so the Giants will need to see him early and often.
--- Hard-throwing right-hander Chase Johnson said his recovery from Tommy John surgery is going so well that he'll take the mound at the 11-month mark. Johnson expects to throw a couple of innings on the minor league side this spring. He made six appearances in Triple-A last season before having surgery.
--- In case you missed it, Steven Duggar was the latest podcast guest. You can stream it here or download it on iTunes here.
--- It was a slow day at camp, so I followed Posey around (sorry, Buster). Check out my Instagram story (pavlovicnbcs) for a bunch of photos and videos from his day at Scottsdale Stadium.
Copyright CSNBY - CSN BAY