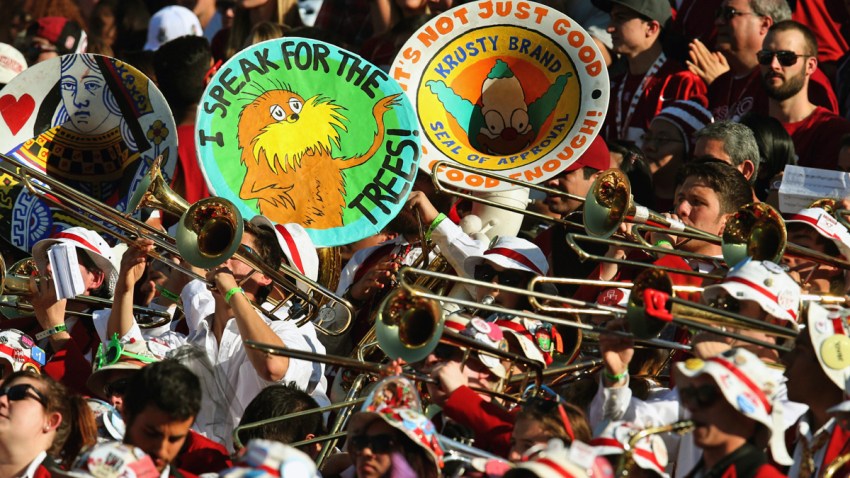 The famous — or infamous as the case may be — Stanford marching band has been disbanded through spring 2017.
In a letter to band managers, Greg Boardman, vice provost for student affairs, lauded the "irrepressible, exuberant style" of the often controversial, but always entertaining marching band. Since the 1960s, it has been a symbol of joy and pride for university students and alumni, entrenching itself as a "beloved component of Stanford culture," he said.
However, Boardman said he was "saddened and disappointed" by the band's "unacceptable behavior."
But this is not the band's first time facing the music.
It was found to have violated policies about hazing, sexual harassment, alcohol, and controlled substances, and prohibited from performing at away games —including the 119th Big Game against UC Berkeley — during the 2015-16 season.
But on Dec. 1, an Organization Conduct Board determined that the Leland Stanford Junior University Marching Band had not done enough to resolve its problems.
The five-member panel reviewed files pertaining to four separate investigations into the band's alleged violation of Stanford's alcohol policy, student conduct guidelines, and an alcohol suspension and travel ban that were imposed in May 2015.
The board was in unanimous agreement that the band had violated its alcohol probation as well as the university's alcohol policy during recent events involving Stanford's unofficial mascot, the Tree. The board also frowned upon the group breaching its travel ban by dipping into band funds for a trip to Lake Tahoe, according to Boardman.
"Each of these violations is concerning," Boardman wrote in his scathing letter. "In the aggregate, they show what we feel is a pattern of disregard for university policy and administrative directives."
As of Friday, all band activities have been suspended through the end of spring quarter 2017, and members are forbidden from performing on- and off-campus.
The band will also no longer remain a student-run group. From next year, its governance will be shuffled such that a professional music director is at its helm, Boardman said.
Boardman described the band's ongoing behavior as "incredibly troubling and indicative of a systemic cultural problem." That's why the panel was in favor of "extreme sanctions" and suggested the "immediate and total cessation of band and its activities through the end of academic year 2017-18," he wrote.
Such measures are only imposed when "it is clear that all other previous measures have been ineffective," Boardman said.
However, he admitted to worrying that the board's recommendation could be a mortal blow for the marching band.
"Indeed, it is likely that the Band would be unable to recover and reconstitute itself following such a long hiatus," Boardman wrote. "This would effectively punish not only members of the band who engaged in the misbehavior, but new and future band members, band alumni, and most regrettably, the Stanford community at large."
Toward that end, Boardman altered the sentence handed down to the marching band with the hope that it is able to retain its "essential features," but only after "addressing a total lack of accountability and responsibility."
If band members choose to ignore the suspension, however, Boardman said they could be individually disciplined.
Band members have until Jan. 23, 2017 to petition the sanctions.
"I understand that this has been a difficult process for all parties involved, but I hope you will see this as an opportunity for a collaborative solution that reflects the highest values and traditions of the university," Boardman concluded.