It was a fitting final carry to Stepfan Taylor's Stanford career. The call was "97 power," a play Taylor, Stanford's all-time leading rusher, estimated had accounted for three-fourths of his 843 carries for the Cardinal.
Taylor knew it was coming. Wisconsin knew it was coming. Just about every one of the 93,359 fans in attendance knew it was coming, but it didn't matter.
With a minute on the clock, he took it five yards to convert on third-and-1, essentially sealing a 20-14 Stanford victory in the 99th Rose Bowl. Kevin Hogan took a knee on the next play and the celebration began.
"We used what got us here," said Taylor, who finished with 88 yards on 20 carries and was named the offensive player of the game. "All I knew is that we needed a first down to get into the victory formation."
That was the story of the 2012 Stanford Cardinal. Hand the ball of to Taylor, play good defense, win. Of course, there were other factors as well, but nothing epitomized the program more than the power play.
On Monday, coach David Shaw was blunt while describing the team's use of Taylor.
"It doesn't matter how many guys are in the box, we're going to hand the ball off to him," he said. "It doesn't matter sometimes if we don't block it perfectly. He's going to make a guy miss."
Taylor went out and proved him right.
While Taylor's play put the final touches on the win, it was an interception from Usua Amanam, a Bellarmine Prep product, that really killed Wisconsin's chances. With the Badgers in Stanford territory for just the second time of the second half, Amanam stepped in front of a Curt Phillips pass at the 42 with 2:20 left in the game.
"I don't think one play wins any game," Amanam said. "I just happened to be at the right place at the right time, and we were albeit o kind of seal the game with that one."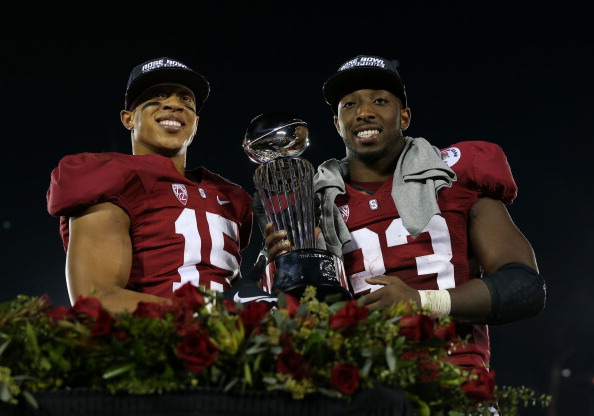 The play earned Amanam defensive player of the game honors.
Following last year's bitter defeat in the Fiesta Bowl -- a 41-38 offensive shootout -- Stanford (12-2) couldn't have been happier about playing a defensive battle. As it did all year, the defense was the driving force behind the Cardinal's success. Wisconsin's second-half drives looked like this: punt, punt, punt, punt, punt, punt, interception.
And while Stanford's were eerily similar -- punt, punt, punt, punt, field goal, kneel down -- that part will be forgotten in time.
It was a puzzling stretch considering how the game started, which was about a well as possible for Stanford.
The Cardinal needed just seven plays to march 80 yards on its first drive, which was capped by a 16-yard rush from Kelsey Young. Receiver Drew Terrell hit fellow senior Jamal-Rashad Patterson for a 34-yard play to key the drive, which was kept alive by an impressive third-down scramble from Hogan on the third play.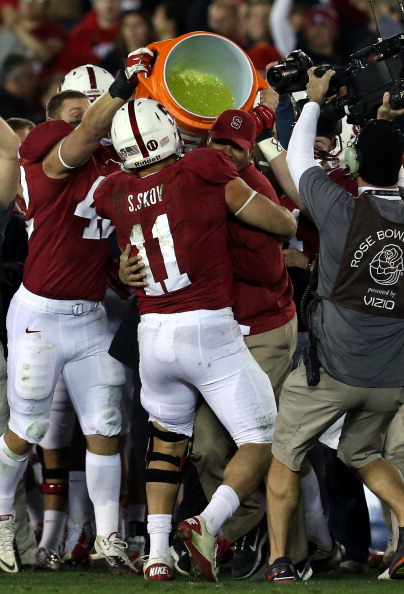 After forcing the Badgers to punt on the ensuing drive, Stanford needed five plays to cover 79 yards for another touchdown to make it 14-0 less than eight minutes into the game. Taylor punched in a 3-yard score a play after Hogan found Ertz for a 43-yard gain.
At the time, Wisconsin looked very much like the 5-loss team playing without its head coach that it was.
If he hadn't already, kicker Jordan Williamson further put last year's Fiesta Bowl misses on the back burner. Following a regular season in which he hit a game-winning field goal against Oregon, Williamson added a 47-yard field goal in the second quarter to make it 17-7 -- what ended up being the game winner -- and a 22-yarder to make 20-14 with 4:23 left in the game.
"I'm just fortunate to be on a great team and have the opportunity to go out there and kick," Williamson said. "I have a great snapper and a great holder that get the ball where it needs to be a great line that make it possible."
It's Stanford's first win in the Rose Bowl since 1972, when it beat Michigan 13-12 in its final game known as the Indians.
Wisconsin running back Montee Ball, who won the Doak Walker Award, given to the nation's best running back, ran for 100 yards on 24 carries.
Follow @KyleBonagura on Twitter