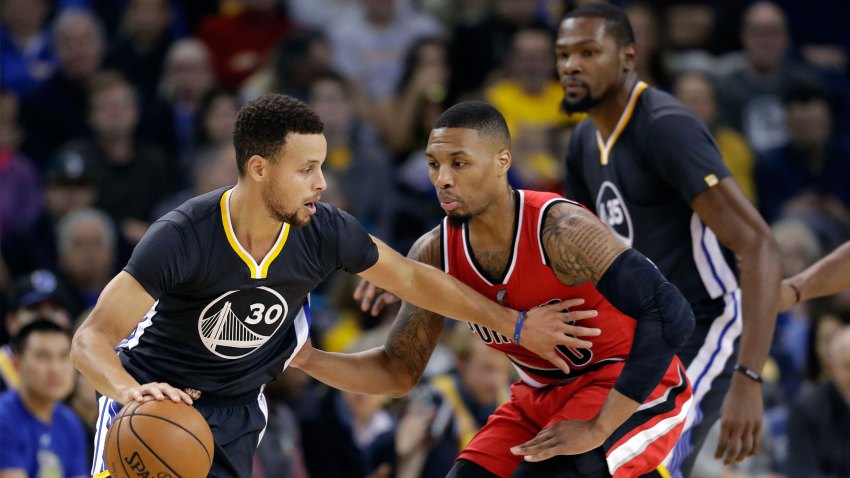 After Steph Curry's sub-par performance against the Cavs on Christmas Day, there has been a lot of talk about his role within the Warriors' offense.
Following shootaround on Wednesday, he was asked point blank: "Do you feel like the ball is in your hands enough this season?"
"Definitely want to be in more pick-and-roll situations," Curry answered. "So that whether I'm getting shots or we're manufacturing ball movement -- that's a strength of ours, regardless of how teams play us. There's a balance to getting KD (Kevin Durant) in the right positions to make plays, Klay getting his opportunities, Draymond being able to playmake like he does...
"We're not gonna overreact to what happened on Christmas Day, but the overall concepts of how we're gonna be successful -- whether teams try to get physical with us or they try to slow the game down or whatever the situation may be -- our strengths should overshadow that. It's how we've gotten to this point and how we're gonna keep getting better."
[POOLE: Curry addresses 'down year,' Warriors won't overreact to Cavs loss]
Last season, Curry shot 45.4 percent from deep -- 43 percent on pull-ups (off the dribble) and 48.4 percent on catch and shoot triples. He made an NBA single-season record 402 3-pointers.
Curry averaged 30.1 points and 6.7 assists on 20.2 shots (11.2 3s) per game.
This year, Curry is shooting 39.9 percent from beyond the arc -- 29.3 percent on pull-ups and the same 48.4 percent clip on catch and shoot. He is on pace to make just under 312 3-pointers.
He is averaging 24.1 points and 5.8 assists on 16.8 shots (9.4 3s) per contest.
"He (Curry) made a clear effort in training camp to defer to Kevin (Durant)," Steve Kerr told reporters on Tuesday. "He wanted to get Kevin comfortable. We're still learning as a coaching staff where to put pieces. What works, what doesn't. We've thrown out three or four things that we thought might work that haven't worked.
"I think Steph has probably had the biggest adjustment of all of our players with Kevin's arrival. I think if you look at it from a practical standpoint, he's doing great. His numbers are still fantastic ... but he also happens to be coming off the greatest shooting season in the history of mankind last year. So he has set the bar so high for himself that it's going to be a point of discussion.
[RELATED: Steve Kerr: I'm going to put Steph Curry in a better position to get going]
"I think we can help him -- I can certainly put him in a better position to get going, which I will. We're still learning, we're still growing. I'm not the slightest bit concerned ... it's just part of our progression as a team."
Durant racked up 36 points and 15 rebounds against Cleveland.
He is averaging 26.2 points, 8.6 rebounds and 4.5 assists per game, while shooting just under 54 percent from the field and 39.5 percent from deep.
What has Curry done specifically to try and make Durant feel comfortable as he acclimates to a new team?
"A lot of it is just knowing the sets that we run -- there are ways to higlight his scoring ability, when he can get to his spots and shoot over the defense, or create mismatches and look for him -- it kind of happens naturally to be honest with you," Curry told reporters on Wednesday. "It's not really anything you have to force.
"Know where he is on the floor, I know where Klay is on the floor and when they get going you kind of ride that wave."
The Warriors host the Raptors on Wednesday night, and the good news for Curry is that he plays better against Toronto than any other team in the NBA.
Over 13 career games against the Raptors, Curry is averaging 30.4 points and 8.3 assists (both personal highs), while shooting over 54 percent from the field and 49 percent from deep.
Copyright CSNBY - CSN BAY