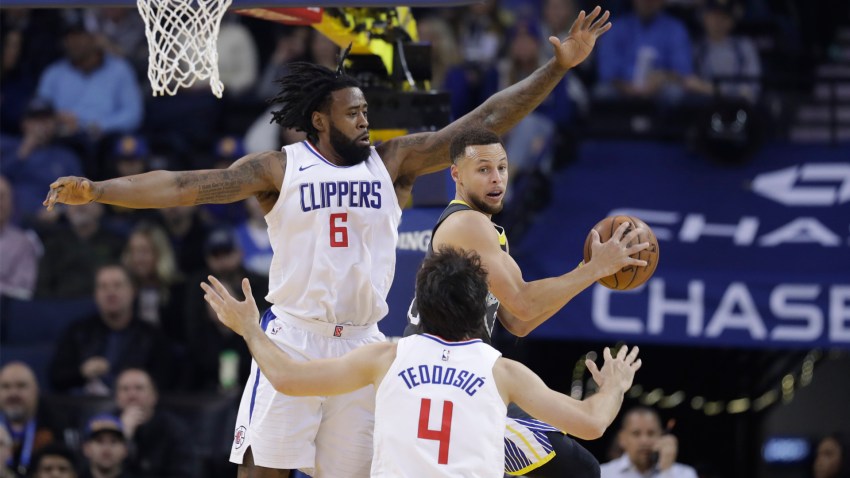 OAKLAND -- When he returns to the Warriors, likely on Friday, Stephen Curry will alter nothing about his game despite coming off a four-month period during which his surgically repaired right ankle endured multiple aggravations.
He'll be the same Curry that fans have come to know, diving into passing lanes on defense while firing up 3-pointers and darting in and out of paint traffic on offense.
It's the only way he knows how to play, and he's played long enough to accept that it comes with risk.
"When I wake up in the morning I'll know the difference between my right (ankle) and my left," Curry said Thursday after practice. "But that won't stop me from being who I am on the floor and having confidence in myself when I get back out there."
Curry missed 11 games after spraining his ankle on Dec. 4 in New Orleans. He missed two games after tweaking it in shootaround on Jan 10. He missed no games after tweaking it March 2 in Atlanta. He has missed the last six games after tweaking it on March 8 against the Spurs.
"I've been very durable over the course of my career," said Curry, who is listed as probable but fully expects to play Friday against Atlanta. "It's just that I've had three untimely, freak accidents happen."
Curry stepped on E'twaun Moore's foot in New Orleans, on Zaza Pachulia's foot in Atlanta and Dejounte Murray's foot against the Spurs at Oracle Arena.
Not once in the previous five regular seasons did Curry miss significant time due to his tricky ankle. He missed a total of 16 games during that span, never more than four in a season, and six of those were for reasons of rest.
This season, however, has tested Curry's patience like nothing since 2011-12, after which he had his second ankle surgery. He concedes that being in and out of the lineup has left him at times feeling "boredom, monotony and frustration."
Though some of that can be attributed to the rehab process, there is no doubt part of that stems from watching the Warriors from the sideline.
With Curry out of the lineup this season, the Warriors are 13-8 (he missed one game with a hand bruise, another with a thigh bruise). That they are 40-10 when he's in the lineup illustrates his importance.
It's not just that he's important. Curry is the catalyst for the offense and he can only be that if he is playing without regard for the possibility of injury. A hesitant Curry can't be an effective Curry, so full throttle is the only way to go.
"If we're trying to win a championship, I need to be out there," he said. "That's a given. We want every single guy out there, healthy and available, myself included. That's the ideal situation."
If he gets hurt along the way, so be it. As man of faith, he believes that anything that happens is influenced by a higher power.
"It doesn't matter if I'm shooting 3s or pullups are going into the lane or playing defense, that's liable to happen any time," Curry said. "Other than those instances, I haven't had anything to worry about on the injury front. We are prisoners of the moment when it comes (playing the game). I don't feel like I'm at a point where I have to change anything based on me being a durable player and being on the court consistently.
"Down the line, if you ask me about it in three of four years, there might be something I might need to change. But not right now."
There is a segment of fans, worried about Curry's health and realizing it is tied to the fate of the team, who would like him to dial back his aggression. Maybe avoid the paint and settle for more jump shots. He's heard the advice and is not unwilling to launch a few more shots from deep.
But Curry is going to go where he sees daylight, and the best chance to make a positive play. He'll take his chances because hesitation has no place in his mind or his game.
Copyright CSNBY - CSN BAY