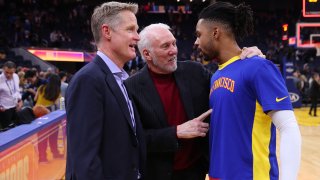 Throughout his tenure, Warriors coach Steve Kerr has been a voice for social change, taking political positions in line with most of his player's interests, something he believes comes naturally.
"It's nothing I've ever thought about," Kerr said during the latest episode of the 'Runnin Plays' Podcast. "It's authentic and as long as it's authentic, then I think it will reach players. If it's beneficial, if it helps then that's great but more than anything, it's just got to be real."
In recent years, Kerr has been outspoken on social issues of race and gun control. Following Friday's loss to the Heat, Kerr invited Trayvon Martin's mother, Sybrina Fulton, to meet with the team. Fulton's son -- who was unarmed -- was shot and killed by George Zimmerman, who was later found not guilty of second-degree murder. Last year, Kerr participated in a town hall meeting at Newark Memorial High School in the Bay Area to call for tougher gun laws.
"These last five years or so, the world has become a much more scary place. It's our country is in a much shakier place than we used to be, everything used to seem so solid," Kerr said. "Then in the last four or five years, it just seems like things are getting shakier and shakier and our foundation is so important and I think it's important for people to try to help maintain the foundation.
"And it sounds corny but we all play a role in that."
Much of Kerr's activism has come on Twitter. On the social network, Kerr frequently tweets and retweets articles criticizing current US President Donald Trump and his constituents, while advocating for gun control initiatives. During the podcast, Kerr said his use of the platform has evolved.
"Twitter is dangerous," he said. "I've had to learn what to tweet, what not to tweet. I tend to retweet articles that I find really interesting to me. I started using Twitter as a news source more than anything. And then I started to realize the power of Twitter and how dangerous that was. And I saw how many people were getting themselves into trouble.
"And I'm sure I got myself into trouble a few times with it. So I've tried to be wise about it."
Kerr acknowledged that his current circumstances have been beneficial to his beliefs. Aside from being a part of an organization that encourages his right to speak out, he also lives in a liberal part of the country that typically agrees with his stances.
[RELATED: Warriors have lost their defensive principles]
"I'm lucky to ... basically when somebody comes up and compliments me about taking political stances or whatever I say, well 90 percent of the people around me seem to agree with me, in the Bay Area," Kerr said. "So it's that at heroic, it is nice. I mean, I love California, this is my home, grew up in Southern California but I've fallen in love with the Bay and I just believe in the values of this state and this area and it's a fun place to be and it's a great place to share a lot of the values that we do."
Copyright C