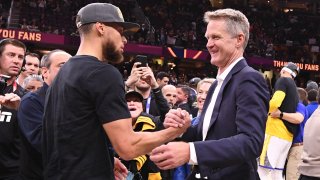 Warriors coach Steve Kerr has gained a reputation for wearing his emotions on his sleeve during his coaching career. During Friday's loss to the Heat in Miami, he wore something more dear to his heart, in the form of a wristband with "I Am Trayvon Martin" inscribed on the rubber accessory.
Martin was killed 240 miles up the road in an Orlando suburb of Sanford, at the hands of George Zimmerman. The band also came with a guest: Martin's mother, Sybrina Fulton, was at the game, per Kerr's request.
The two share a common thread of losing loved ones to gun violence. Kerr's father, Malcolm, was murdered in 1984 in Lebanon while serving as president of the American University of Beirut. Twenty-eight years later, Martin -- Fulton's son -- was killed by Zimmerman. Martin, an unarmed African American teenager, was confronted by Zimmerman, after seeing him walk in his gated community. In the ensuing altercation, Zimmerman shot Martin, killing him. During the trial, Zimmerman said he acted in self-defense and ultimately was found not guilty of second-degree murder.
"It was heartbreaking," Kerr told to NBC Sports Bay Area. "That's a pain that will never go away."
Following Friday's loss, a Warriors team official guided Fulton to Golden State's locker room, where she met with the team and Kerr.
"It's not easy," Kerr admitted. "What do you say to somebody who's lost a child in that manner? There's not much I can say. Just try to do nice things for people and kind gestures go a long way,"
In recent years, Kerr has been outspoken on social issues of race and gun control. Last year, he participated in a town hall meeting at Newark Memorial High School in the Bay Area to call for tougher gun laws.
[RELATED: Kerr thoughtfully responds to Trump's remarks]
With Fulton's visit, Kerr hoped to bring her solace.
"So she was a beautiful woman," Kerr said. "I'm glad we could host her and she could meet some of our guys and have a fun night at the ball game. It meant a lot to me."
Copyright C