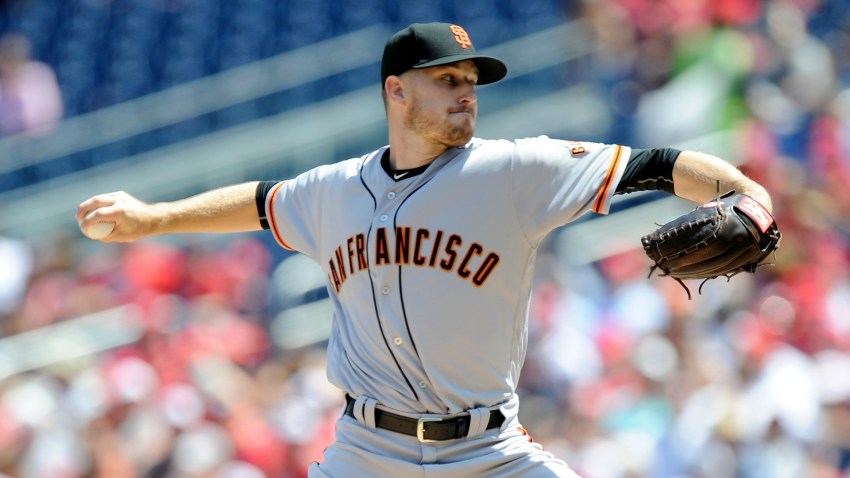 WASHINGTON D.C. — Chris Stratton had to wait 42 extra hours to make his start at Nationals Park. He made the most of it.
On a sunny day in the nation's capital the rookie had by far the best outing of his big league career, striking out 10 to lead the Giants to a 4-2 win over the Nationals. The win was Stratton's first of the year and just the second of his career.
Here are five other things to know from the first half of a split doubleheader …
— Stratton's previous career high in strikeouts was four. He had five by the end of the third inning Sunday. His final line: 6 2/3 innings, 5 hits, 0 runs, 1 walk, 10 strikeouts.
— Stratton pitched just the fifth double-digit strikeout game of the year for the Giants, and the first in more than two months. He now has as many double-digit strikeout games this year as Madison Bumgarner and Johnny Cueto. Stratton had previously whiffed double digits three times in the minors, most recently in 2106 for the Sacramento River Cats.
— Josh Osich entered with two on in the seventh and got pinch-hitter Daniel Murphy to fly out to left. That's good work.
— Joe Panik did most of the damage at the plate, tying a season-high with three hits. Panik, hitting leadoff, made it 3-0 with a two-run, two-out single in the top of the second.
— Hunter Strickland came on in the eighth. He was booed as soon as the bullpen door opened, and it got very, very loud when he was announced as the new pitcher. The boos turned to cheers a few minutes later when Anthony Rendon smoked a two-run shot to left. The fans returned to booing when the inning ended and Strickland walked to the dugout.