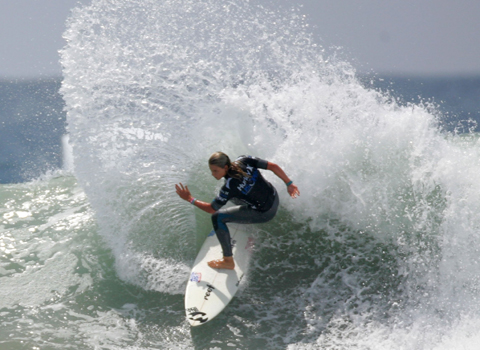 The 2009 Supergirl Pro Junior surfing contest, which identifies and celebrates the emerging stars in women's surfing, will take place August 15 and 16 at the Oceanside Beach Pier in Southern California.

The sport's top 20-and-under female surfers look to hit the waves during this two-day event in their hunt for a spot atop the Association of Surfing Professionals (ASP) junior ranks and their share of the $15,000 prize purse.

"We are seeing some amazing surfing talent in North America right now," said Brooke Farris, Women's Tour Manager, Association of Surfing Professionals International. "This is the most prize-money we have ever seen for an ASP Pro Junior women's event so I am sure that will entice the girls to show all of their Supergirl capabilities!"

The Supergirl Pro Junior is being held in conjunction with the 25th Annual Oceanside Longboarding Surfing Club Surf Contest and Beach Festival, and kicks off the 3rd Annual Supergirl Jam, the action sports industry's largest all-female action sports competition and lifestyle festival which features more than 100 female pros in surfing, skateboarding, inline skating and snowboarding.

As an element of the Supergirl Jam, the Supergirl Pro Junior acknowledges and promotes female empowerment, independence and creativity by offering another platform upon which today's female athletes can compete. The contest gives young ladies the opportunity to celebrate their talents while recognizing their personal strength and confidence.

"This is the perfect event to kick off the 3rd Annual Supergirl Jam, as the junior surfers were a crowd favorite at last year's competition," said Karen McTier, Executive Vice President of Domestic Licensing and Worldwide Marketing, Warner Bros. Consumer Products. "These girls are an inspiration to young women everywhere."

In 2008, the Supergirl Pro Junior was introduced to the surfing community during the U.S. Open of Surfing at Huntington Beach, California. Coco Ho of Oahu, Hawaii bested the competitors, which included Nikita Robb (East London, South Africa), Sage Erickson (Ventura, Calif.) and Courtney Conlogue (Santa Ana, Calif.), and was crowned the first Supergirl Pro Junior champion. As an ASP Grade-4 event, the top rising stars are again expected to attend, making this an intensely competitive contest. Conlogue will be riding the momentum from her recent Women's Pro win during the recent 2009 U.S. Open of Surfing in hopes of being crowned the new Supergirl Pro Junior champion.

"The Supergirl Pro Junior is a key event for young female competitors to showcase their talent and gain invaluable experience as they hone their skills while vying for a spot on ASP's Junior Ranks," said professional surfer and Supergirl Jam host committee member Kassia Meador.