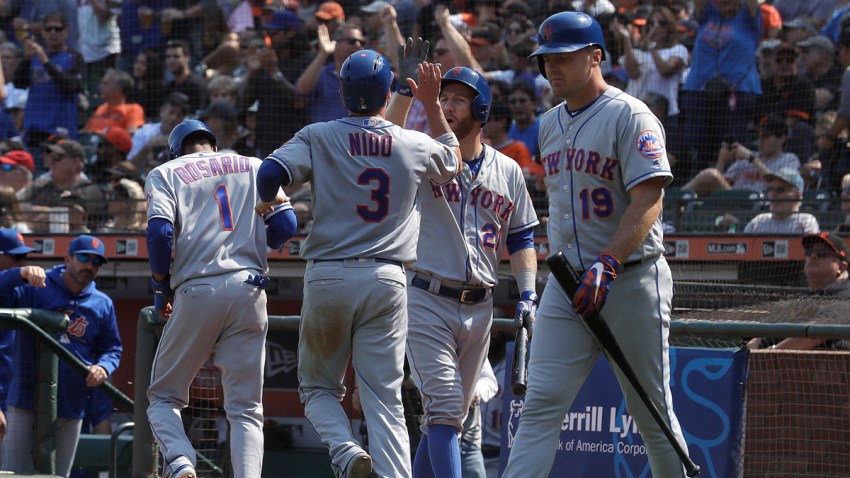 Noah Syndergaard pitched a two-hitter for his first career complete game, striking out 11 as the New York Mets beat the San Francisco Giants 4-1 on Sunday.
Syndergaard (10-3) made his 81st start in the majors and topped the Giants for the second time in 12 days. He matched his season high for strikeouts, walked one and retired 20 of the final 22 batters.
Syndergaard allowed only two runners past first base and set the side down in order five times. He yielded a one-out triple to Alen Hanson in the third and a single to Evan Longoria in the fourth.
The right-hander overcame a one-out throwing error by first baseman Jay Bruce in the seventh by striking out Austin Slater and getting Nick Hundley to ground out.
Syndergaard continued a strong stretch by New York's rotation. Over the past 15 games, Mets starters have a 1.61 ERA.
Michael Conforto hit his 20th home run, Jeff McNeil had two hits and two RBIs and Todd Frazier added a pair of hits.
The Mets won for the seventh time in their last eight games at AT&T Park.
Hanson tripled and scored for San Francisco. The Giants have lost three of four.
Limited to a total of two runs in the first two games of the series, the Mets matched that in the second. Frazier led off with a single and Conforto homered off Chris Stratton (9-8).
Hanson tripled and scored on Stratton's sacrifice fly in the third. McNeil hit a two-run single in the eighth.
TRAINER'S ROOM
Giants: SS Brandon Crawford (left knee) missed his third consecutive game. OF Steven Duggar will undergo surgery Tuesday to repair a torn labrum in his left shoulder. INF Kelby Tomlinson was called up from Triple-A Sacramento.
UP NEXT
Mets: RHP Jacob DeGrom (8-8, 1.68 ERA) faces the Dodgers in Los Angeles on Monday. DeGrom leads the majors in ERA.
Giants: LHP Madison Bumgarner (5-5, 2.68 ERA) pitches against Colorado on Monday afternoon. He has allowed one run over his previous 15 innings.