Team Emirates New Zealand won another two races against defending champion Oracle Team USA Thursday.
The first race of the afternoon started close but ended with New Zealand across the line first. The final race of the day was a runaway with Oracle losing by more than 1,000 meters.
The Kiwi's need to win just three more times to become the new America's Cup champions, while Oracle needs to win more than triple that number, or 10 races.
New Zealand is now leading Oracle by a score of 6 to negative-1 in the finals after crossing the finish line the winner twice Thursday under sunny skies of San Francisco.
If New Zealand continues its dominants it will be crowned the winner on Sunday.
Oracle can't stop any more races. It played it's one and only delay card on Tuesday.
Oracle shook up it racing team Thursday by dropping a Bay Area native from its sailing crew. The move was a failed effort to find a way to come back from a large deficit in the America's Cup Finals.
Oracle started the race for the cup down two points by the regatta's International Jury. That was the team's punishment for making illegal modifications to its boats during exhibition races in 2012 and earlier this year.
34th America's Cup Standings (first to 9 points wins)
Emirates Team New Zealand – 6
ORACLE TEAM USA – 0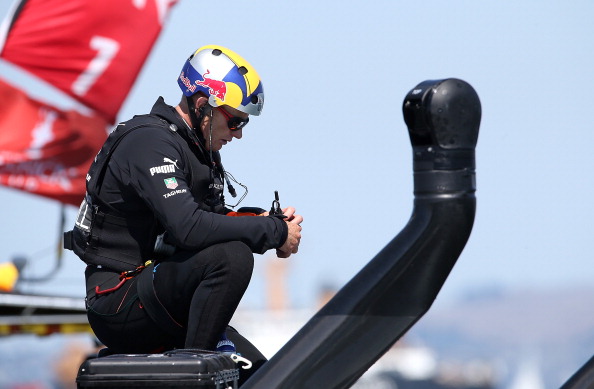 Race 6 Performance Data
Course: 5 Legs/10.14 nautical miles
Elapsed Time: ETNZ – 31:39, OTUSA – 32:26
Delta: ETNZ +:47
Total distance sailed: ETNZ – 12.3 NM, OTUSA – 12.3 NM
Average Speed: ETNZ – 23.43 knots (27 mph), OTUSA – 22.91 knots (26 mph)
Top Speed: ETNZ – 38.55 knots (44 mph), OTUSA – 40.21 knots (46 mph)
Windspeed: Average – 11.6 knots, Peak – 13.4 knots
Race 7 Performance Data
Course: 5 Legs/10.14 nautical miles
Elapsed Time: ETNZ – 24:48, OTUSA – 25:54
Delta: ETNZ +1:06
Total distance sailed: ETNZ – 11.6 NM, OTUSA – 12.0 NM
Average Speed: ETNZ – 28.32 knots (32 mph), OTUSA – 27.86 knots (32 mph)
Top Speed: ETNZ – 44.73 knots (51 mph), OTUSA – 41.00 knots (47 mph)
Windspeed: Average – 16.3 knots, Peak – 17.8 knots