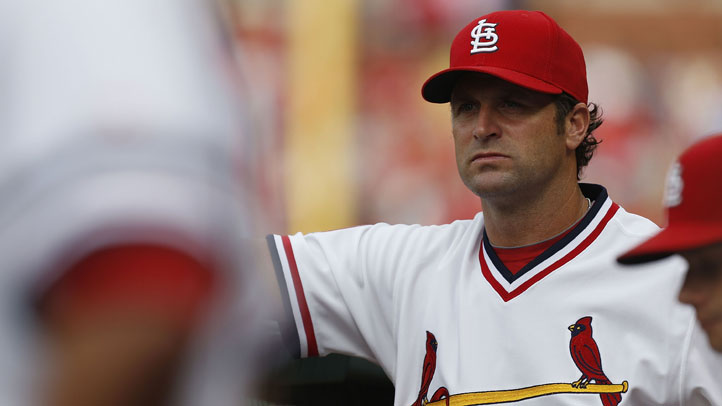 Marco Scutaro was hitting lasers all over the field for the Giants Tuesday during a 15-0 drubbing in St. Louis, but he wasn't the one firing them on Monday -- that was a teenage fan, who was nailed by authorities after trying to flee the scene of the crime.
A 17-year-old Cardinals fan was sitting in a private suite apparently getting liquored up with some of his friends decided to fire up his laser pointer at Giants pitcher Shane Loux's jersey during the bottom of the seventh inning. Matt Holliday, batting at the time, noticed it and stepped out of the batter's box.
They resumed play a few minutes later but eventually Cardinals manager Mike Matheny was able to figure out where the pointer was coming from, made eye contact with the kid and, per the St. Louis Post-Dispatch (via Dave Brown of Big League Stew) mouthed "I caught you."
"In between innings, I saw (the laser) glance across the ground again," Matheny recalled. "I looked up and I caught the kid. I called security over and pointed him out. I said, 'I caught you,' and he kind of froze up. They went up and took care of it."
They is security, who went after the kid and his friends, who attempted to take off running and dump the laser pointer in a trash can. That didn't work out so well for them.
People will probably get in trouble (namely: the kids who were boozing and firing off the laser pointer, and the company who used the private suite) and a few important lessons were learned here.
One, don't use laser pointers. They haven't been cool since slap bracelets. Seriously kids, find something else.
Two, if you use a laser pointer while sitting in a private luxury box while drinking underage, you're a) going to get caught and b) an idiot.
And three, if you shine a laser pointer on a Giants pitcher's jersey, Marco Scutaro's gonna have to wreck your team's box score with a pair of crooked numbers.