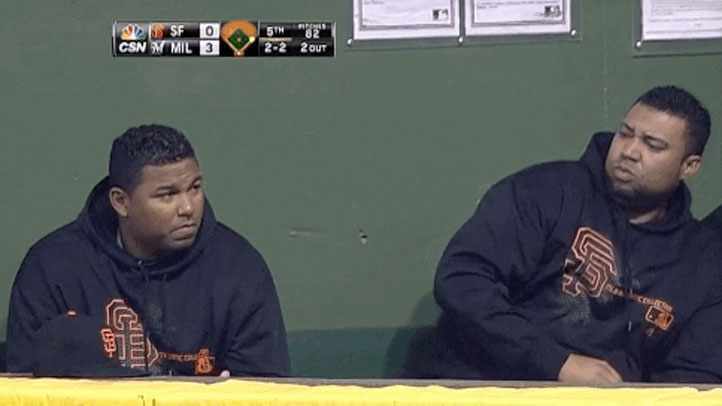 Life in the bullpen is pretty boring.
There's a lot of time to kill, not a ton of action and only limited excitement.
Whenever the camera pans out to the bullpen, it usually catches shots of guys hanging lazily around.
But in the case of the Giants on Wednesday night in the bottom of the 5th inning, they were straight cheesing.
Or, as it were, cutting the cheese.
As you can see from the amazing GIF below, Jean Machi has let a little something slip and Jose Mijares, who is sitting next to him, does NOT appreciate the odiforous nature of what just occurred.
So, yes, the Giants bullpen stinks. Literally.
(And we aren't talking about tonight's blown save at the hands of pitcher Santiago Casilla who was able to preserve a tie in the eighth but couldn't repeat in the ninth. Brewers beat the Giants 4-3 with a walk off fly ball off the bat of Blake Lalli.)