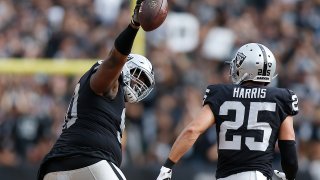 ALAMEDA – Johnathan Hankins isn't even 28 years old yet feels like an old man working on the Raiders defensive front. The starting line features two rookies off the edge and a second-year man working next to him inside.
He is an elder statesman in that crew, with plenty of experience in his seventh year out of Ohio State. Hankins is having a blast with a young, developing crew, knowing he must anchor the defensive line and help those around him make plays.
"I'm just trying to do my best to lead the guys," Hankins said on this week's Raiders Talk podcast. "I've been here longer than most of the guys on this unit, and I try to show them what it takes to be a professional and pass along all the information I learned from the veterans I worked with way back when."
Hankins is paying it forward now with words and action. His role at defensive tackle often helps create opportunities for others pushing the pocket back and shutting down the opposition's interior run game.
The Raiders are better in that area thanks in large part to Hankins' improvement within the system and are certainly thankful last year's in-season signing has become a permanent fixture up front.
Hankins was in a weird spot before joining the Raiders last year, cut just a year into a big three-year contract with Indianapolis because the Colts changed defensive schemes.
He found a proper fit in Oakland and was happy to re-up with them this offseason.
"There was a lot going on after I got released by the Colts, and I was trying to find a place that fit well with me and finding an organization that wanted me," Hankins said. "That's what it boiled to, and it has really worked out with the Raiders."
Hankins considers it destiny that he's Raiders, the same team name he had as a 6-year old running back and kicker growing up in Detroit and nearby Dearborn, Mich. That's where he grew (quite literally) into the dominant defensive force that earned an Ohio State scholarship and a second-round NFL draft slot.
"I'm just enjoying this ride," Hankins said. "I'm trying to be at my best and show everyone watching that I'm still one of the best defensive tackles in this league. The goal is to get to 12 years, and I think I'm on my way."
Copyright C