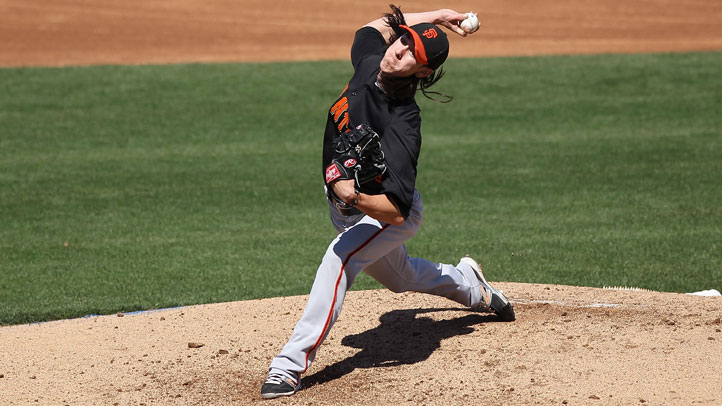 They Might Be Giants' takes a look at some of the most important pieces to 2012's San Francisco Giants roster. Follow The Cove on Twitter.

Remember when we said the Giants were a pitching-based team? We weren't kidding: TMBG is going to focus exclusively on pitchers the rest of the way home! No really. And today we start with Tim Lincecum, the heart and soul of the Giants starting rotation, and a guy who's going into what could be a crucial year for his future as a Giant.

Lincecum signed a two-year contract this offseason, so it's not as if he's suddenly walking away from the Giants. But he will be eligible for free agency in 2013, meaning that the Giants can't be content with his status as the ace of this squad, especially with Matt Cain's contract talks also up in the air.

The Freak's got a lot of incentives in his contract, so it's safe to say he'll have plenty of motivation to succeed in the next two years.

What may motivate him most though, at least when it comes to staying with the Giants, is the team's success and ability to produce runs so that Lincecum doesn't end up with a losing recede despite posting an ERA below 3.00 again.

Expectations
Lincecum's expectations won't be any higher than normal in 2012. So that's good news. But his expectations are already high: he's won two Cy Young awards before the age of 28, he's made four-straight All-Star Games, and in the "worst" season of his career, when he posted a 3.43 ERA, led the league in strikeouts, won 16 games and led the Giants to a World Series title.

That being said, the last two years for Lincecum haven't been elite like 2008 and 2009 (the two seasons he won the Cy) were: his WHIP rose above 1.2 and his WAR dipped below six after two seasons as one of the most dominant pitchers in the bigs.

If Lincecum can return to the 2008 and 2009 form, he'll be a top contender for the Cy Young in 2012. And the Giants will be better off for it.

Reality
Unfortunately, getting back to '08/'09 numbers isn't something that's easy, and it's probably not fair to expect that out of Lincecum.

In fact, production from the 2011 season, in which Lincecum bounced back in a very nice way, would be perfectly fine. Last year, Lincecum tore up the National League, and were it not for the Giants being completely unable to produce runs, he would've won a lot more games.

To wit: the Giants lost 15 games in which Lincecum pitched, and in all 15 of those, they scored three or less runs. You'll also note that Lincecum suffered 14 losses in 2011. These things are not in the slightest bit independent of each other.

So "winning more games" is a great expectation and a reality for Lincecum in 2012, if only because it will mean the Giants are a better offensive team, Lincecum will be happier about his long-term future in San Francisco and reality is actually meeting expectations.