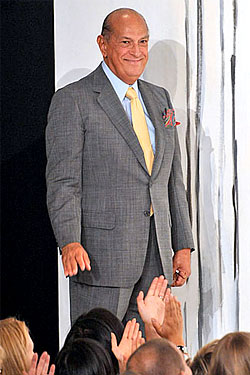 The defending World Series champion San Francisco Giants will welcome fans to the 2013 season Saturday at the 20th annual Giants Fan Fest at AT&T Park.
The KNBR Giants Fan Fest takes place from 10 a.m. to 3 p.m., but fans started lining up in the frigid overnight hours.
By 7 a.m. hundreds of people were waiting outside each entrance.
Fans will be able to take a photo with the 2010 and 2012 World Series trophies, the National League Championship trophy, the World Baseball Classic Trophy and the America's Cup trophy, according to team officials.
More than 30 current and past Giants players and coaches will be on hand and signing autographs, with some taking part in live Q&A sessions.
Fans can also see Giants memorabilia from all eras, tour the clubhouse and press box, play in the Kids Zone, walk or play catch on the field and see highlights from the 2012 Championship season.
The event is free, but fans are encouraged to donate to the Giants Community Fund as they enter the ballpark.
Parking is free at Lot A, but public transportation is encouraged.
More information about the event is available online at www.sanfrancisco.giants.mlb.com/sf/fan_forum/fanfest.jsp.
One of the players sure to grab a lot of extra attention is pitcher Tim Lincecum.
Lincecum showed up for Media Day Friday with a new much shorter hairdo, not to mention black rimmed glasses.