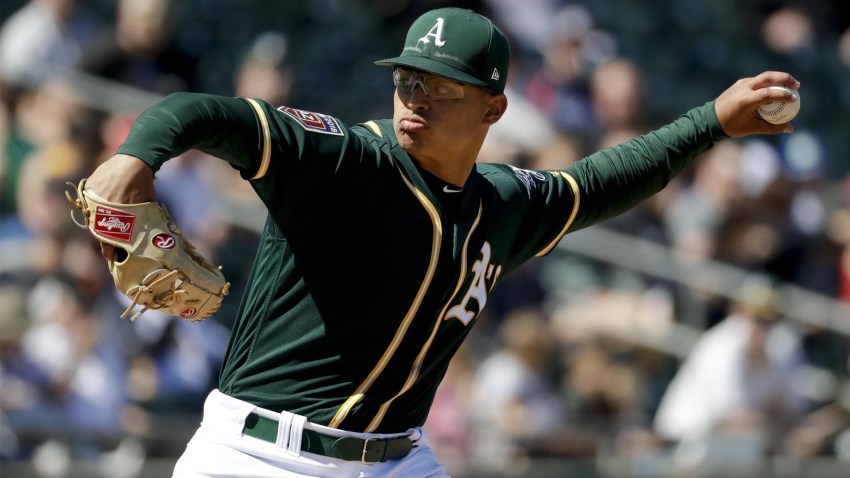 The A's have won the early version of the Battle of the Bay.
Well, at least when it comes to prospects.
While the Giants only had one player named to Baseball America's Top 100 prospects list on Wednesday, the A's had a trio recognized for their potential.
Here's where all three prospects found themselves in the Top 100:
Jesus Luzardo, LHP, No. 7
When talking about the A's future, it all starts with Luzardo. And fans shouldn't have to wait long to see him in Oakland.
Luzardo, 21, was acquired by the A's from the Nationals at the 2017 MLB trade deadline, in a deal that also gave them All-Star closer Blake Treinen. Since then, he's looked like a star in the making.
Between three levels, Luzardo went 10-5 with a 2.88 ERA and 129 strikeouts to 30 walks in 109.1 innings pitched in 2018. He's the top left-handed pitching prospect in the game, and the A's already expect him to be a big factor in the majors this upcoming season.
A.J. Puk, LHP, No. 18
Puk, 23, missed all of the 2018 season due to Tommy John surgery. He sustained the injury at the end of spring training where he had a 3.38 ERA in 10.2 innings pitched at big league camp.
When healthy, Puk can be lights out on the mound. The 6-foot-7 left-hander struck out 184 batters over 125 innings pitched in 2017, one year after the A's made them their top pick in the 2016 MLB Draft.
There's even better news than his prospect ranking, too. Puk is reportedly making "tremendous progress" in his rehab.
Sean Murphy, C, No. 72
Murphy, 24, could be the A's starting catcher as soon as this upcoming season. He hit .288 with eight home runs in 68 games at Double-A in 2018, but his real ticket is defense.
Baseball America writes, "Murphy has Gold Glove potential." On the 20/80 scouting scale, they have his defense at 60 and arm at 70.
The A's only have Josh Phegley and Chris Hermann on their depth chart right now. A strong spring training and start to the season could get Murphy to Oakland in no time.
Copyright CSNBY - CSN BAY