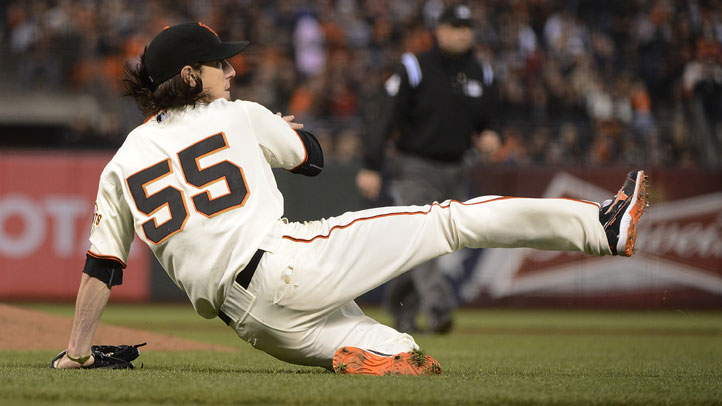 If you were holding your breath for Friday night, there's a good chance you're a San Francisco Giants fan: Tim Lincecum was coming off his first truly great start of the season, heading into Philadelphia and no one was sure what to expect.
What they got was, well, completely unexpected: The Freak made a pair of ridiculously bad and/or weird and/or awkward mistakes, but he still pitched like a champ, taking down Philadelphia 7-2 pm Friday.
Lincecum's first awkward move came in the third inning, when he snagged a grounder from opposing pitcher Vance Worley, wheeled to first, threw Worley out and started walking off the field. One problem: there were only two outs:
Fortunately, Lincecum was able to shake off the mistake (only magnified by the fact that he was pitching in the not-so-opposing-team-friendly Citizens Bank Park).
"I thought I could just laugh about it. It was a funny situation," Lincecum said, per Andrew Baggarly of CSNBayArea.com. They were kind of like all together, `What the hell is this guy doing?' I was like, `All right, I'm a (freaking) idiot for a minute, let's go back to the mound.'"
Lincecum did just that. But he wasn't done making awkard mistakes. In the fourth inning, Shane Victorino was on third base and Ryan Howard was batting. Lincecum did something he hasn't done since 2008: balk. And it, obviously, cost the Giants a run:
These are huge gaffes, but they're also bigger than that: Timmy moved on from them. He didn't let the egg in the third inning fluster him into making a mistake. He didn't allow falling off the mound mid-delivery to go from "LOL" to simply "L" by vitrue of coughing up a bunch of runs.
We weren't the only ones who noticed a difference -- Bruce Bochy saw it too.
"He got into a jam and that's the Timmy we know," Bochy said. "We saw it last year. We saw it again tonight. I noticed that his last start. He had a different look. He's pitching with confidence. He didn't get flustered by anything."
If Lincecum's pitching with confidence, it could be huge for the Giants. It's obviously too early to say "HE'S BACK" or something of that nature; it's akin to re-crowning Tiger Woods before he tees off on the Saturday of a major.
But right now, Timmy looks like the Timmy we've known for years, not the stranger who showed up during the first half of 2012. Laugh with him, enjoy it and hope it lasts.