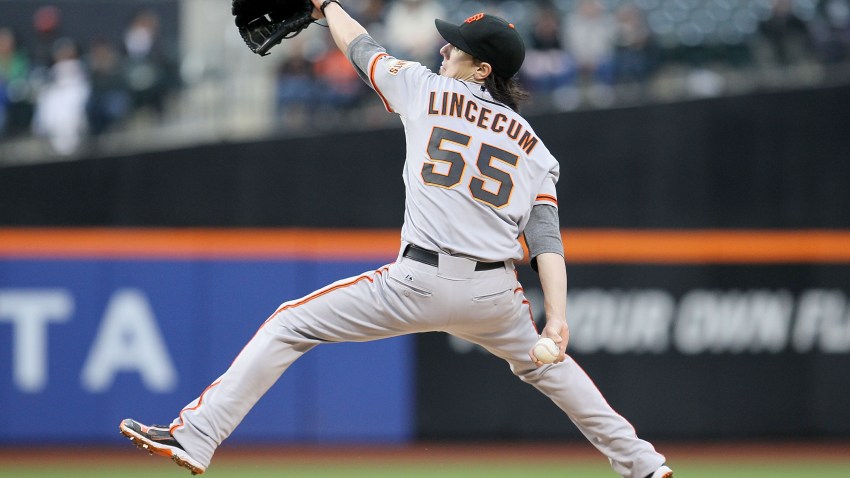 What's wrong with Tim Lincecum, you ask? What's wrong with the Giants' error-happy defense?

Those two questions have governed most discussions about the Giants this season. Their youthful middle infield penned one heck of an essay in response to both Monday night.

Second baseman Emmanuel Burriss and shortstop Brandon Crawford teamed on a double play the likes of which the Giants haven't seen in years. Burriss glove-flipped the ball, Crawford barehanded it -- and Lincecum exhaled.

The play came with one out and the bases loaded in the fifth inning. It allowed Lincecum to qualify for his first victory of the season as the Giants won 6-1 in Game 1 of a doubleheader at sparsely populated Citi Field.

Starting pitching report
Lincecum turned in what he derisively describes as a "five-and-dive" start. But given the three rough ones that preceded it, he had nothing to complain about.

It helped that he finally pitched a clean first inning, holding the Mets scoreless. In his previous three starts, he had allowed a total of nine runs in the first inning. (He allowed just eight runs in the first inning all last season.)

Lincecum came out throwing first-pitch strikes to eight of the first nine batters and to 16 of 23 overall. He didn't fall behind 2-0 until the Mets' 17th batter. It was an important first step, but Lincecum struggled to dispatch batters quickly and his pitch count mounted.

He didn't face more than five batters in any inning, yet he needed 108 pitches to get the minimum 15 outs required to earn the decision.

One big difference: Lincecum made better pitches from the stretch. Entering the game, opponents were hitting .462 (12 for 26) with runners on base. It was a major difference from a year ago, when they hit just .184 against him with men aboard.

The Mets were just 2 for 10 while Lincecum was in the stretch Monday – thanks in part to one incredible double play.

Stuff-wise, Lincecum came out throwing 92 mph but his fastball was in the 89-90 range in the middle innings, similar to what he's been throwing in his previous three starts.

His fastball looked to have more movement, though. Of his eight strikeouts, four came on heaters – all swinging.