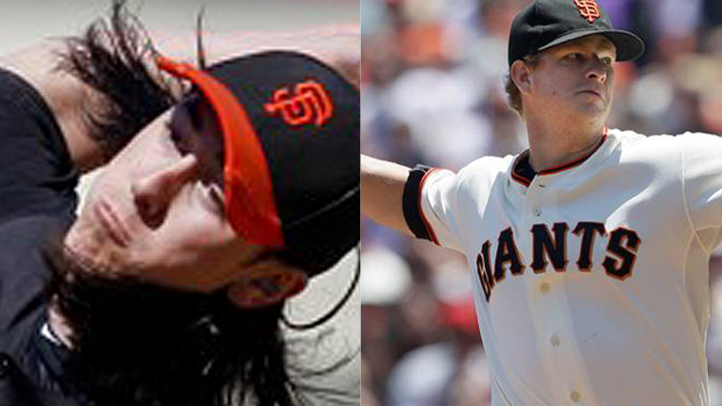 As you've probably heard, the Giants are best known for the pitching. So it shouldn't be surprising that, for the second year in a row, San Francisco has several players favored by Las Vegas to win the National League Cy Young Award, while almost no one on the list of people favored to win the National League MVP.
Tim Lincecum is tied for the third-most favored pitcher to win the NL Cy Young, at 15/2, according to Bovada.lv. He and Cliff Lee both sport 15/2 odds, while defending Cy winner Clayton Kershaw is the favorite at 9/2. Roy Halladay has 11/2 odds.
Behind Lincecum, but ahead of Matt Cain is an interesting group of pitchers: Adam Wainwright, Cole Hamels, Ian Kennedy and Josh Johnson. Johnson, Kennedy and Cain all have 15/1 odds, while Wainwright and Hamels each have 12/1 odds.
Wainwright's an interesting bet if he stays healthy, and the same goes for Johnson. The problem with laying any money on Cain, Lincecum or the Philly guys is that great performances from their teammates can cancel each other out.
On the other hand, Cain and Hamels are potentially in contract years, and that makes things interesting, should they feel particularly incentivized to pitch well.
Also on the Cy list is Madison Bumgarner, who checks in at 25/1 odds. More on him tomorrow for his "They Might Be Giants" series post, but he's a candidate for a serious breakout, and if he could outperform Lincecum and Cain this year, he'd be a steal at those odds. It also speaks to how good he is that he's actually on the list. (Although he has the same odds as Johan Santana. Really?)
The Giants lone offensive representation on the MVP odds list is Buster Posey, which is surprising since, you know, he missed the 2011 season. Posey has 25/1 odds and is behind Joey Votto, Ryan Braun, Matt Kemp, Justin Upton, Mike "Giancarlo" Stanton and a slew of other guys more likely to win the award.
Lincecum also checks in as a 35/1 candidate to win the MVP award, so there's that too. The long and short is that there isn't a really good value bet on here (outside of maybe MadBum), unless you can find odds for Comeback Player of the Year.