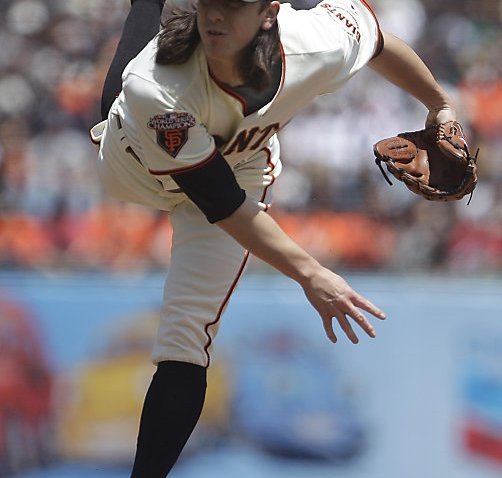 June 2011 has started looking an awful lot like August 2010 for Tim Lincecum.
The Reds got to the two-time Cy Young Award winner for seven runs, all earned, in four-plus innings Saturday as Cincinnati hammered the Giants 10-2 in China Basin.
Lincecum gave up seven hits, walked four and threw two wild pitches. His first two starts this month weren't as bad as Saturday's, and the Giants eventually won both of those games, but those outings weren't up to Lincecum's standard.
So, in three June starts, he's 0-1 with a 9.39 ERA. In August of last year, the lone truly bad month of his career, he went 0-5 with a 7.82 ERA.
Lincecum (5-5) struck out Drew Stubbs to open the game. It would be Lincecum's lone strikeout of the afternoon.
Ryan Hanigan's RBI single in the second inning gave Cincinnati a 1-0 lead. The Reds then had runners at first and second, but Lincecum escaped further damage, thanks to shortstop Brandon Crawford. He fielded Paul Janish's grounder near the bag at second and, with some excellent footwork, started a 6-3 double play.
The Reds added two runs in the third. Pitcher Mike Leake began the inning with a double. Joey Votto later delivered an RBI single. The other run scored on Lincecum's second wild pitch of the day.
Cincinnati broke open the game with four in the fifth and again Leake began the inning with a base hit. He's not your garden-variety pitcher at the plate: Leake went 16-for-48 (.333) as a rookie last year and after his 2-for-4 Saturday, he's 7-for-25 (.280) this season.
A walk to Stubbs preceded Brandon Phillips' two-run double over Cody Ross' head in left. Votto brought home Phillips with a double to nearly the same spot Phillips hit his. That would be the end of Lincecum's day.
In four-plus innings, he threw 73 pitches - only 36 of which were strikes.
Guillermo Mota replaced Lincecum. An infield out moved Votto to third and he scored on Scott Rolen's sacrifice fly to make it 7-0.
Leake (6-2) came into the day with a 4.83 ERA, but he shut down the Giants on four hits in eight innings. Leake struck out eight and walked one.
That one walk was issued to Bill Hall. The Giants signed the infielder Saturday to take the roster spot left open after they put Freddy Sanchez (dislocated right shoulder) on the disabled list.
Hall entered the game in a double switch in the fifth inning. In his other two plate appearances, Hall struck out and popped out. He struck out 55 times in 147 at-bats with Houston this season. The Astros released Hall on June 4.
Pat Burrell accounted for the Giants scoring with a two-run homer off reliever Carlos Fisher in the ninth. It was Burrell's sixth homer of the season and first since April 18.