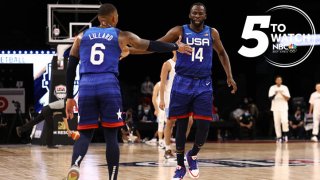 Warriors star Draymond Green and Oakland native Damian Lillard help lead Team USA basketball in a semifinal matchup against Australia as the Americans set their sights on a fourth straight gold medal. Plus, track and field ramps up, and Danville's Maggie Steffens inches closer to another gold in women's water polo. Here's the top events to look for today:
Team USA Men's Basketball Advances to the Gold Medal Game
Team USA defeated Australia 97-78 to advance to the gold medal game. While the final score reflects a blowout, that certainly was not the case early in the game. A 28-4 U.S. run that started late in the second quarter and carried into the third turned what had been a 15-point deficit into a comfortable lead. Kevin Durant led the way with 23 points and nine rebounds, placing him one win away from tying Carmelo Anthony's Olympic record of three gold medals in basketball. Devin Booker added 20 points on 7-for-10 shooting.
The United States advanced to the gold medal game on Friday at 10:30 p.m. ET against the winner of France and Slovenia.
Team USA Earns Multiple Medals, Including Gold, in Track and Field
For the second consecutive Olympics, Americans Ryan Crouser and Joe Kovacs finished first and second respectively in the men's shot put event. Crouser beat his own Olympic record, throwing the shot put 23.30 meters on his final attempt to take the gold. New Zealand's Tom Walsh won bronze, which he also took in 2016, making it a repeat across the board on the winner's podium. It is the first time that has happened in a track and field event in Olympic history.
Grant Holloway finished second to claim silver in men's 110m hurdles, posting a time of 13.09 despite being the overwhelming favorite to win it all. The world champion blazed to the quickest time in the hurdles semifinals, but was unable to hold on to the top spot in the final. Hansle Parchment of Jamaica won gold in the upset, posting a time of 13.04, and handed Holloway his first loss of the year. Jamaica also won gold in the 2016 Rio Olympics.
The U.S. advanced in the women's 4x100m relay, finishing second overall with a time of 41.90. Team USA, which comprised of Javianne Oliver, English Gardner, Teahna Daniels and Aleia Hobbs finished ahead of Team Jamaica. The heats were missing the star power of Allyson Felix, Shelly-Ann Fraser- Pryce and reigning women's 100m and 200m champion Elaine Thompson-Herah.
Unfortunately the men did not fare as well. Team USA, which included Trayvon Bromell, Ronnie Baker, Fred Kerley and Cravon Gillespie, finished sixth in Heat 2 (eighth overall) with a time of 38.10.The U.S. men's team hasn't medaled in the 4x100m relay since earning silver in 2004.
Vashti Cunningham was the only member of Team USA to advance in women's high jump. Cunningham automatically qualified after posting a jump of 1.95m on her third and final attempt. She placed 13th in high jump at the 2016 Rio Olympics, and is a favorite to win it all at Tokyo.
Team USA's Will Claye finished fourth in men's triple jump. His longest jump was 17.44m on his third attempt. The two-time silver medalist looked to claim gold for the United States with the absence of two-time Olympic triple jump champion Christian Taylor, who did not compete due to a ruptured Achilles tendon. Pedro Pablo Pichardo of Portugal won gold with a jump of 17.98m on his third attempt.
Team USA faces ROC in women's water polo semifinals
The U.S. women's water polo team will face the Russian Olympic Committee in a battle of Group B foes during a semifinal matchup at 11:30 p.m. Wednesday.
Team USA, winners of two straight Olympic gold medals, suffered a rare loss in group play against Hungary. Aside from that loss, the Americans have posted three double-digit wins along with a five-point win. One of those double-digit victories came against ROC in the final game of round-robin play, with the U.S. coming out on top 18-5.
Maggie Steffens, a product of Danville and Stanford University, has led a high-powered U.S. attack in Tokyo. Steffens and Stephania Haralabidis both scored four points in the win over ROC, while five Americans scored multiple goals in a 16-5 quarterfinal win over Canada. Meanwhile, Ashleigh Johnson has also been a stalwart in net for Team USA.
The winner of Team USA-ROC will battle the winner of the Spain-Hungary semifinal for a gold medal on Saturday.
Watch Team USA-ROC on CNBC, or stream live.
USWNT goes for bronze against Australia
The U.S. women's soccer team looks to bounce back from a gut-wrenching semifinal loss to Canada in Thursday's bronze medal match at 1 a.m.
After winning four of the first five gold medals in Olympic women's soccer history, Team USA has now failed to make it to the final in back-to-back Olympics. The U.S. was in a scoreless tie with Canada until Jessie Fleming beat Adrianna Franch on a penalty kick in the 74th minute for the game's lone goal.
Now, Megan Rapinoe, Carli Lloyd and the USWNT turn their attention back to Australia. Needing a win or tie against Australia in round-robin play, the Americans earned a point in a 0-0 draw against the Aussies on July 27.
It's not gold, but after missing out on the podium altogether at the 2016 Rio Olympics, the USWNT will be hungry in Thursday's tilt.
Watch on USA Network, or stream live.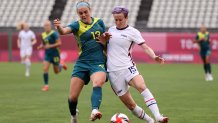 Colin Duffy tries to reach first Olympic sport climbing podium
Two Americans will attempt to race to the top of the walls -- and standings -- at Tokyo's Aomi Urban Sports Park on Thursday.
Team USA's Colin Duffy and Nathaniel Coleman are among the eight athletes competing in the inaugural Olympic sport climbing final. Duffy came in third overall during qualifying after ranking sixth in speed, fifth in bouldering and second in lead. Coleman, on the other hand, was eighth overall and the final qualifier for the final. He ranked 10th in speed, 11th in bouldering and fifth in lead.
France's Mickael Mawem placed atop the leaderboard in qualifying, while Japan's Tomoa Narasaki Tomoa was second.
The action begins with the speed final at 1:30 a.m., transitions to the bouldering final at 2:30 a.m. and lead final at 5:10 a.m. While the climbers take on three different disciplines, the medals will be awarded to the three highest finishers on the overall leaderboard.