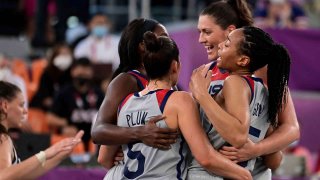 The U.S. women's 3x3 basketball team is one victory away from gold.
The team defeated France 18-16 on Wednesday, advancing to the sport's first gold medal game.
Team USA never trailed in the game, taking a 15-12 lead when Kelsey Plum eluded her defender with a hesitation dribble drive and converted the layup with 2:17 remaining. France came back to tie it at 16 with 1:07 remaining on a layup by Laetitia Guapo.
Following an offensive rebound, the U.S. regained the lead on a free throw by Allisha Gray with 34 seconds remaining. In the closing seconds, Gray then grabbed another offensive rebound and kicked it out to Plum, who hit one of two free throws with 5.6 seconds left for an 18-16 lead. France's Mamignan Toure then missed a desperation two as time expired.
Team USA shot 46 percent from the field but struggled from deep (1-for-7) and from the free-throw line (4-for-7).
Stefanie Dolson had five points and eight rebounds, scoring three of the United States' first four points of the game for a 4-1 lead. Ana Maria Filip had a game-high eight points for France.
Plum and Gray had six points each to lead the U.S., which awaits the winner of the semifinal matchup between China and ROC. The gold medal game is scheduled for Wednesday at 8:55 a.m. ET on USA Network.
Tokyo Olympics
Watch all the action from the Tokyo Olympics live on NBC