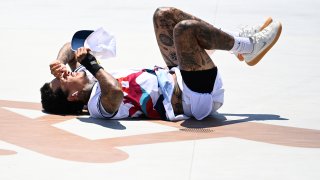 In skateboarding's first appearance at the Olympic Games, there were plenty of examples of just how risky the sport can be. Check out some of the gnarliest crashes in Tokyo.
Despite the slams, skaters from around the world celebrated their sport on the Olympic stage and helped each other back up.
Tokyo Olympics
Watch all the action from the Tokyo Olympics live on NBC
Even the best, including American Nyjah Huston, couldn't escape having a few nasty falls.