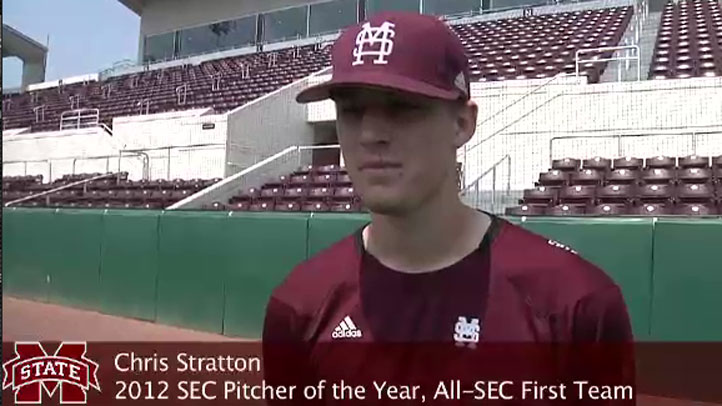 The Giants recently made Chris Stratton, Mississippi State's ace in 2011, their top pick in the 2012 MLB Draft. And the start to his San Francisco Giants career has gotten off to a scary beginning, as Stratton was hospitalized after taking a line drive to the head.
Giants VP Bobby Evans confirmed Stratton was in the hospital to CSNBayArea.com's Andrew Baggarly and was hopeful that it was nothing more than a concussion.
"He's at the hospital now being evaluated to make sure it's nothing more than a concussion," Evans said. "He does have symptoms of a concussion. They are working on the diagnosis to confirm that. They are going to be cautious and thorough."
The Giants chose Stratton with the 20th overall pick in the recent draft and have high expectations for yet another top-shelf pitcher they selected early in the draft (the lineage of Tim Lincecum, Matt Cain, Madison Bumgarner is pretty decent).
So this is terrifying for the organization, but more so for Stratton personally.
Stratton, per Baggarly, was standing behind second base when he was plunked in the head by the line drive. Baggarly reports via eye witness accounts, that Stratton was then transported by ambulance to a local hospital.
And apparently the injury is "likely to be season-ending" for Stratton, as it's doubtful he'll be able to pass the concussion protocols before the season ends on September 1.
That's not entirely devastating for his development, but it's certainly not good. More important than anything for Stratton, though, is making sure he can recover from this injury and get back on the mound as healthy as possible.