San Francisco police have arrested two men for the burglary of a Make-A-Wish Foundation office over the weekend and recovered a scooter that was donated to the nonprofit by Giants outfielder Hunter Pence, according to Mayor Ed Lee.
A third suspect remains at large, Lee learned from San Francisco Police Chief Greg Suhr, but it was unclear whether police were able to recover iPads, laptops and other items they believe the suspects stole Saturday.
At least one of the suspects arrested Tuesday was depicted in surveillance footage that showed a pair escaping with Pence's black, motorized scooter and several bags, but police have yet to specify which one.
The scooter is well known to Giants fans who remember when it was stolen in May 2014. Within a few days, though, the scooter Pence used to travel to and from AT&T Park was returned.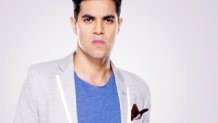 The suspects, identified as Judd Janke, 37, and Nicholas Tiller, 26, were apprehended at 6:30 p.m. Monday on the 400 block of Market Street, police said. They have been booked into San Francisco County Jail. It wasn't immediately clear if they had attorneys.
The news that the scooter was again recovered broke around 11 a.m. Tuesday while Lee, who plans to auction off a trip to City Hall and a visit with himself to help the foundation recover from the blow it suffered this past weekend, was, in partnership with the San Francisco Giants, donating eight iPads to Make-A-Wish.
Lee said the city bought a number of iPads for attendees of the United States Conference of Mayors to make appointments, keep track of events and take notes. Some were returned after the conference and donated to organizations or auctioned off at fundraising events. The ones he donated to Make-A-Wish on Tuesday were extra, he said.
"Sorry for the episode that occurred, but you've got friends," he assured Giammona. "You've got friends throughout the city."
As Lee presented the gift to the organization's board chairwoman, Laurie Giammona, his assistant received a text message. She handed her cell phone to the mayor, prompting him to glance at the screen and laugh excitedly.
"The police have recovered the scooter!" Lee proclaimed. "Hunter Pence, Hunter Pence, yes! As I said, [the police] were doing work and this is good news."
According to police, the department's Southern Station Investigations Team, using surveillance footage, identified the suspects and connected them to a rash of burglaries in the area.
A crime bulletin helped officers from the Tenderloin station nab Janke and Tiller, and the search of a building on 4th Street led them to Pence's scooter.
"You become familiar with the people that are in your area, suspects and people you've arrested, so they were able to recognize these folks," said Giselle Talkoff with the San Francisco Police Department.
Janke has been slapped with three felony charges of burglary, conspiracy and false impersonation, and two misdemeanor charges of possession of narcotics and burglary tools. Tiller faces two felony narcotic related charges, felony burglary and multiple misdemeanor charges, including possession of stolen property, and a probation violation.
Two thieves had struck the Make-A-Wish Foundaton's SoMa office on Hawthorne Street on Saturday and made off with a number of items, including Pence's once-stolen-and-returned motor scooter, according to Executive Director Patricia Wilson.
Pence's black moped features orange decals of his name, his jersey number eight, a San Francisco Giants sticker and an autograph that reads, "To Michelle, Much Love!" with a smiling face. The scooter was recognized with a Giants bobblehead doll.
Make-A-Wish acquired the Major League Baseball player's vehicle of choice for an auction, Wilson said. A donor, who is also a board member, paid $40,000 for the scooter and a meal for four with Pence.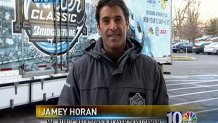 The winning bidder had yet to pick up the scooter at the time of its theft, Wilson said.
Pence himself was incredulous, tweeting Sunday: "I can't believe it! It's scooter-gate all over again. #findhuntersscooterx2"
A parody Twitter account, @HPenceScooter, that sprang up after the May theft tweeted its thanks Tuesday to law enforcement, its agent and manager, and others, including "daddy @hunterpence for without you I would roll nowhere" and "MLBJesus."
Pence's Twitter account didn't immediately address the return of the scooter.
Photographs show that the robbers destroyed a door handle to access the office, which they ravaged. Drawers and cabinets looked like they had been rifled through, and bags, baskets and other items were strewn across the floor.
"We've been so devastated by the break-in and really just thinking about how could somebody come into the office and see the pictures of the children on the wall and steal from this foundation," Giammona said.
The iPads that were swiped from the office helped sick children, forced to spend time in hospital and out of school, to connect with their friends, she said.
Although Make-A-Wish was "thrilled" by Lee and the Giants' decision to donate iPads to replace those that had been lost, Giammona said, "The news that Hunters scooter has been recovered and suspects have been found, I think, is really the best news we could hope for."
Surveillance footage shows two people, both carrying backpacks, walking up the stairs and pausing briefly. One peers into and jimmies a door before turning around to address the second suspect, who in the meantime sits down on the stairs and buries his head in his hand.
Cameras also captured the duo heading back down the stairs. The first suspect slung a bag onto the scooter, while the second carried two bags in his hands.
According to Giammona, the Make-A-Wish team, although stricken by the burglary, were glad that "really critical items related to wishes" had not been compromised. The organization doesn't keep funds on site, she said, adding that Pence's scooter definitely needs "a new home" and should perhaps go on display at AT&T Park or the mayor's office.
"It's a great scooter," Giammona said. "Clearly somebody wanted it but it would have been pretty hard to use around the city of San Francisco."
Volunteers with the the Greater Bay Area Make-A-Wish Foundation famously transformed San Francisco into Gotham City in November 2013 so that then 5-year-old Miles "Batkid" Scott, who had battled leukemia, could play superhero.
An investigation is ongoing and people with information about the burglary are asked to call Sgt. Anderson of the Southern Station Investigation Team at (415) 575- 6043.