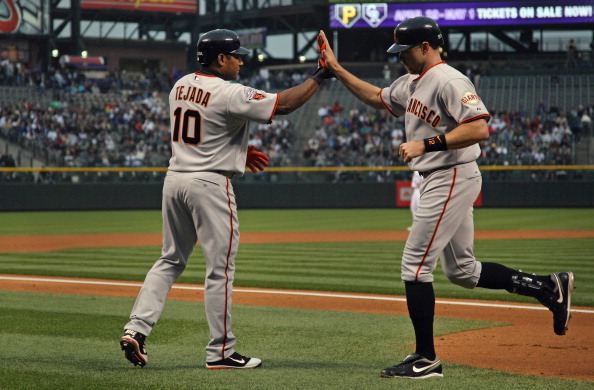 Monday's monster homer by Giants outfielder Nate Shierholtz will go down in baseball lore for a couple of reasons.

First of all, he shot that thing 467 feet into the third deck of Coor's Field and that has only happened 30 times in the stadium's 16-year history. See hit here. (Two were at the bat of one Barry Bonds.)

Now we are learning that Shierholtz's brother Vai just happen to be sitting in the third deck just a few feet from where the ball landed. Being a ball player himself it's a bit of a surprise he didn't catch it. After the fellow fan settled down, Vai walked over and offered the guy who caught it $25. Sold.

Krup and Kuip could not stop talking about this story during Tuesday night's game. And who can blame them. Vai is an Air Force Academy cadet just down the road in Colorado Springs. He just showed up to the game on a whim with some buddies and clearly did not get a hook up for tickets with his big bro (since he was sitting on the third deck). Apparently Vai texted that he had tickets before Nate could get him on the comp list. In the end, that turned out to be a good thing.

Now Nate Shierholtz has the ball and his brother to thank for it. The Merc has a great write up on their close relationship.

A Colorado blogger notes that Vai plays for the Academy's baseball team. So far this year he's had 23 starts and 23 hits in 88 at-bats.