As 14 gymnasts vying for spots on Team USA were busy practicing for this weekend's trials at SAP Center in San Jose, California, on Wednesday, younger athletes were giddy at the prospect of seeing their idols up close.
Thousands of fans will converge on San Jose starting Friday to catch the U.S. women's gymnastics trials. Ten-year-old Kaliya Lincoln, an aspiring Olympic gymnast who trains at Airborne Gymnastics in Santa Clara, will be among them.
Kaliya smiles when she talks about emulating her idols, Simone Biles and Gabby Douglas, both of whom are expected to make Team USA and medal in Rio.
"I want to try some skills they did," Kaliya said. "They inspire me so much because they look like me, and they're like the best gymnasts in my opinion. They are so awesome."
Kaliya's coaches at Airborne think she's on track to possibly realize her dream of winning Olympic gold someday.
USA Gymnastics coach Ron Galimore, who in 1980 became the first African-American to compete on Team USA, is ecstatic that Biles and Douglas are having such a profound impact on younger gymnasts.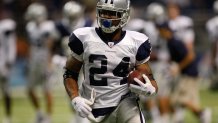 "I couldn't think of better role models than Simone and Gabby and all the girls in our sport," said Galimore, who missed his opportunity for an Olympic medal after the U.S. boycotted the 1980 Moscow Games.
Galimore, nevertheless, will take his rightful spot in American gymnastics history as he will be inducted into the U.S. Gymnastics Hall of Fame this weekend.
He said he didn't necessarily set out to break a color barrier; he just happened to enjoy the sport immensely.
"There were very few African-Americans in the sport at that time, but I fell in love with it," he said.
For her part, Kaliya will marvel at what Biles and Douglas do on the mat this weekend and then in Rio mext month. And over the next four years, she'll be aiming for that level of excellence.
"I think I can do it, too," Kaliya said.