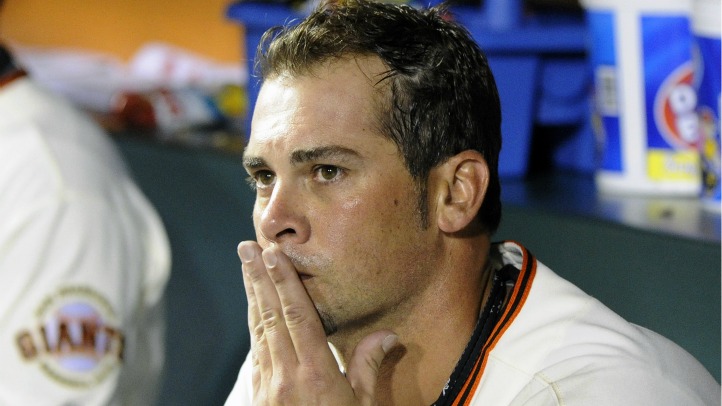 Despite a wealth of talented starting pitchers, the Giants actually have quite the predicament to begin the season: Ryan Vogelsong and Eric Surkamp are injured, and Barry Zito is Barry Zito, thus thinning out the rotation.
Bruce Bochy's solution? An eight-man bullpen for the first two series of the year and a trip to the disabled list for Vogelsong, which Bochy confirmed on Thursday, via Andrew Baggarly of CSN Bay Area.
Bochy described Vogelsong's latest outing as a "huge relief" because the Giants can plug him on the DL and then get him ready for a specified start in the regular season.
"He's so important to this rotation and this club," Bochy said. "We have a plan to pitch him on the 15th and it looks like he's on the way to that."
In the meantime, the Giants will travel to Arizona and Colorado, two hitter-friendly parks, and will bring along an eight-man bullpen to ensure that no one gets overworked early in the season.
This means, as Henry Schulman of the San Francisco Chronicle points out, bad news for guys like Brandon Belt, Brett Pill and Hector Sanchez. An eight-man deep bullpen essentially equates to no third catcher, no fifth outfielder, and no third first baseman.
But it means less strain on the primary relievers.
"You hate to tax these guys coming out of the gate," he said of the pitchers. "We're all going to be more comfortable with 12 pitchers, especially starting in Arizona and Colorado."
Schulman lists Dan Otero, Jean Machi, Steve Edlefsen and Yusmeiro Petit as guys that could take Vogelsong's spot on the roster through the first 10-games days of the season.
Obviously this isn't the preferred way of doing things. But it's what happens when you deal Jonathan Sanchez and have two of your six starting candidates get dinged up before the season even begins.
The good news is that Tim Lincecum, Matt Cain and Madison Bumgarner are enough of a terrifying threesome that they should be able to shore up Zito and the relievers the first two times through the rotation.
And if not, well, things are a lot worse off than anyone imagined.