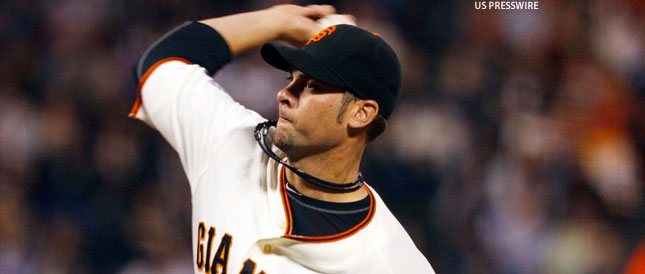 Ryan Vogelsong's spring training got off to a rough start -- even before it even really started. Vogelsong tells Comcast SportsNet Bay Area that he's not allowed to throw for the first week-to-10 days in Spring Training.
The pitcher strained his back about a week ago lifting weights. Vogelsong says he's not in pain, and he's just being safe as a precaution.
Giants pitchers and catchers reported to spring training in Scottsdale, Ariz., over the weekend.
Vogelsong made a storybook return to the big leagues last season.
He won his first game in six years after struggling with the Pittsburgh Pirates for several seasons, and playing a few years in Japan. Injuries to the Giants starting rotation moved Vogelsong into the mix early last season.
He
finished
with a 13-7 record and a 2.71 ERA.