Misty May-Treanor and Kerri Walsh Jennings advanced to what could be an all-California final in women's beach volleyball Tuesday with a 2-0 win over China.

The U.S. defeated China, 22-20, 22-20 and await the winner of the other semifinal, which features Jen Kessy and April Ross, of Orange County, against Brazil.
May-Treanor, of Long Beach, and Walsh Jennings, of Saratoga, have become beach volleyball are making a run for their third consecutive gold medal. They remain undefeated in Olympic play.

"We just defeated the best team in the world for the past year. These Chinese women are great athletes,'' Walsh Jennings said over the stadium sound system after the win. "We know we have this in us, we've just got to go execute.''
May-Treanor and Walsh Jennings had never lost an Olympic set before last week, when they beat Austria 2-1 in pool play. But they gave up the first three points of the semifinal and fell behind 13-8 in the first set. China saved two set points before Xue put one into the net tape to give the first set to the Americans.
The Americans held a slim lead most of the second, but China took the lead 17-16 and forced the Americans to take a timeout. Trailing 19-18, May-Treanor ran far behind the end line to retrieve an errant pass and bumped it toward the net too close and forcing Walsh Jennings to go under the net, delicately bumping it over as she slid.
China saved one set point, but May-Treanor fisted one to the back line to set up a match point, then Walsh Jennings' block fell to the sand and she leapt into the air to celebrate.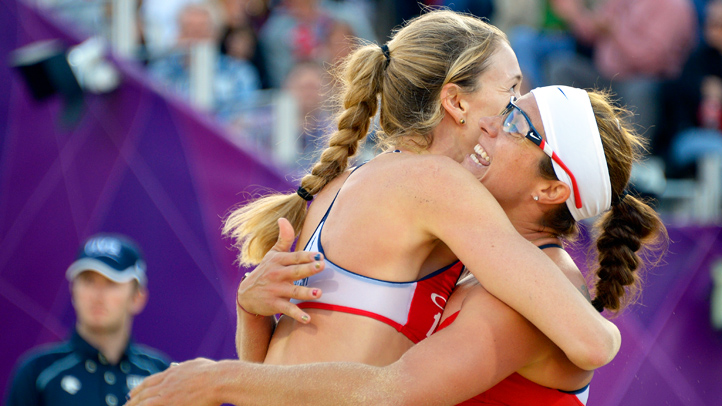 Copyright AP - Associated Press