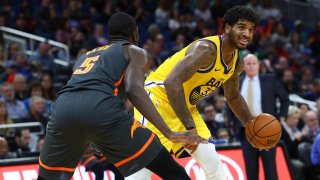 Marquese Chriss arrived at Warriors training camp on a non-guaranteed contract.
Ultimately, he made the opening-night roster and Golden State was forced to waive Alfonzo McKinnie.
Although Chriss earned his spot with a very solid preseason, the non-guaranteed aspect of his deal did not change. The Warriors have until Jan. 10 to decide whether to guarantee his contract for the remainder of the season or cut Chriss without being on the hook for any additional money.
The deadline is over five weeks away, and Chriss doesn't sound like somebody who is stressing about his situation.
"January's going to come whether I'm on this team or not," he told Anthony Slater of The Athletic. "It's their decision."
Translation -- Chriss can't control the Warriors' front office and he simply is going to play hard and whatever happens will happen.
At this point, it would be a surprise if management elects to part ways with the No. 8 overall pick in the 2016 draft.
Over the last 13 games, Chriss is averaging 8.5 points, 5.1 rebounds, 2.4 assists and 1.4 blocks, while shooting just under 48 percent from the field and a scorching 85 percent from the free throw line.
Throw it down Marquese 😤 pic.twitter.com/sSyuAmaiMm— Warriors on NBCS (@NBCSWarriors) December 3, 2019
Eric Paschall dished out a career high 6 assists tonight (to go along with 24 points on 9-for-11 shooting, plus 9 rebounds) pic.twitter.com/QmuT72s36O— Drew Shiller (@DrewShiller) December 3, 2019
Bowman ➡️ Chriss 💥 pic.twitter.com/MRpa9CUqZH— Warriors on NBCS (@NBCSWarriors) November 30, 2019
[RELATED: Klay reveals financial mistakes from early in Dubs career]
If the 22-year-old stays with the Dubs all season, it will be interesting to see how much of a priority the Warriors place on re-signing Chriss in free agency next summer.
But that's a conversation for months down the line.
Copyright C