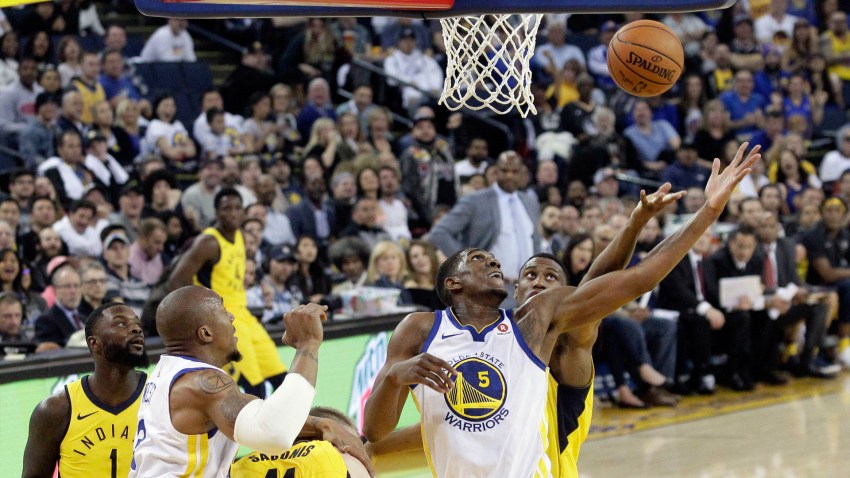 OAKLAND -- Gone are the days of doubting Kevon Looney, questioning if his scalpel-scarred hips would ever allow him play a meaningful role with the Warriors or, for that matter, any team in the NBA.
Long, long, long gone are the days of wondering whether he was a dreadful waste of a first-round draft pick.
The Warriors saw enough talent to take the risk of drafting him out of UCLA in 2015. They've been patient, as necessary, waiting for Looney's body to respond to the trauma. Their patience is being rewarded.
Looney matters.
"He's had a great year," Warriors coach Steve Kerr said late Tuesday night, after a 92-81 loss to the Indiana Pacers.
Greatness is graded on a curve in the NBA, and Looney surely meets that definition relative to his first two seasons insofar as he now matters -- and not just because the Warriors are more shorthanded than they've been at any time since Kerr took over as coach before the 2014-15 season.
Looney matters because he's comfortable and effective in the team's switching defense. He matters he feels the game with his mind. And because he gotten comfortable with his shot, casually sinking midrange jumpers and, on Tuesday, draining his only 3-pointer, launching from the right wing.
"He's always had that game," Andre Iguodala, who spends nearly every practice working out on the same court as Looney, told NBC Sports Bay Area. "But the NBA is all about that confidence and opportunity. He's feeling better, too.
"But even when he was hurting with his hips, I could always see his game."
Looney underwent surgery on his right hip in August 2015, then his left hip in April 2016. He played a total of 468 minutes in his first two seasons. He has played 746 minutes so far this season, shooting 57.1 percent from the field.
And most of those minutes have been effective, particularly in the paint. He blocks a shot every 17 minutes and he may be the best in-traffic rebounder on the team.
"He brings rebounding, good defense both on the interior and perimeter with his ability to switch and he's smart," Kerr said. "He's a very smart basketball player."
Looney is 6-foot-9 on his best day, with the leaping ability of a wheelbarrow, but his wingspan stretches from baseline-to-baseline. OK, it's actually about 7-4.
Every inch of that length has been visible at times, including Tuesday night. Looney scored 8 points but pulled down a game-high 11 rebounds, adding two blocks, two assists and a steal over 28 minutes. He was an even-0 on the plus/minus scale, which is far better than anyone else who logged more than 20 minutes.
"There are still a lot of things he can do that he hasn't shown yet," Iguodala said. "Tonight was the first time he pulled up from 3. And we've been begging for that for like a year and a half now.
"Now the next step for him, and for us to help him, is to get him to realize that no matter what the time of possession or the score or the situation, to have the same confidence."
Kevon Looney matters now, as the Warriors play out the regular season with no real incentive.
He'll matter later, too, when the All-Stars begin filing back into the lineup and the Warriors reset for the playoffs in pursuit of a second consecutive championship.
Copyright CSNBY - CSN BAY