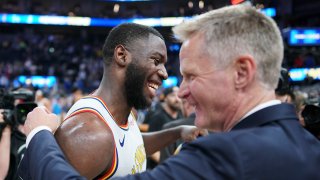 The Warriors walked into State Farm Arena on Monday night eager to erase the memories of a fourth-quarter meltdown 24 hours earlier and instead found what has to be their bottom.
A 104-79 blowout loss to the lowly Hawks in Atlanta came as a direct result of repeated self-sabotaging flurries of turnovers, sloppy dribbling and ill-advised shots.
One night after a horrid fourth quarter led to a loss at Orlando, the Warriors -- one-half game ahead of the Hawks entering the night -- had a chance to lose the tag of the league's worst team and instead reinforced the label with a 25-point thrashing.
While the Hawks snapped a 10-game losing streak and lifted their record to 5-16, the Warriors left Georgia lugging a 4-18 record that signifies their worst 22-game start in 32 years -- since they opened the 1987-88 season losing 21 of their first 25 games.
Here are three takeaways from a game that, at the start, had every reason to be close.
The return of Kevon Looney
After battling a neuropathic condition that flared up in training camp, Kevon Looney made his first appearance since opening night.
The 6-foot-9 forward-center looked about as rusty as one would reasonably expect.
Looney started at power forward -- with Eric Paschall sliding over to small forward -- and was slated to play 15-20 minutes. He played 15 minutes, finishing with two points (1-of-3 from the field), two rebounds and two blocks.
Assuming Looney experiences no adverse physical effects on Tuesday, he'll be back in action on Wednesday at Charlotte. He's going to need at least a couple weeks to find any kind of rhythm.
Ball movement concepts too often ignored
These Warriors are not good enough to consistently take defenders off the dribble, yet they spent much of evening attempting exactly that.
The results, naturally, were disastrous.
They actually had more turnovers (10) than assists (nine) in the first half -- and outdid that in the second half to finish with 17 assists and 23 turnovers. News flash: It's almost impossible to beat even the worst of opponents when the turnover court exceeds the assist total.
The coaching staff believes in ball movement now more than ever. If it made the offensive game easier for Stephen Curry, Kevin Durant and Klay Thompson, it definitely would make it easier for Alec Burks, Glenn Robinson III and this team's three centers.
There were far too many instances when the Warriors opted not to follow that script.
[RELATED: Possible Dubs draft target Ball new projected No. 1 pick]
Paschall shines alone
While his teammates were shooting 33.3 percent and making errors all over the court, Paschall was shooting 81.8 percent and had twice as many assists as turnovers. He simply had no worthy sidekicks.
Starting at small forward but also putting in time at power forward with Draymond Green resting his tender heel, Paschall finished with a team-high 24 points on 9-of-11 shooting from the field, including 2-of-2 from beyond the arc.
Paschall didn't stop there, dishing a team-high six assists and grabbing a team-high-tying nine rebounds.
On a night when his teammates were in a fog, the 6-6, 250-pound Villanova product was the lone ray of light.
Copyright C