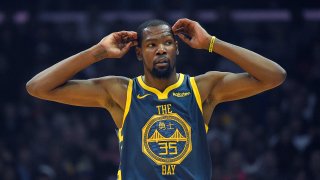 The Warriors on Wednesday night looked as healthy as they have since opening night -- until they took ill in the third quarter.
Down four at the half and briefly taking a two-point lead three minutes into the third quarter, they were outscored 23-11 over the final nine minutes of the quarter and never recovered in a 106-91 loss to the Hornets at Spectrum Center in Charlotte.
The return of D'Angelo Russell gave the Warriors 11 available players for the first time since mid-November. The new energy seemed to provide a boost, but they were unable to maintain the momentum created at several points of the game.
The Warriors lost for the 13th time in 15 games, dropping to an NBA-worst 4-19 record.
Here are three takeaways from a second consecutive loss to a struggling opponent:
The return of D-Lo
Insofar as Russell missed nine games with a sprained left thumb, which happened to be on his shooting hand, it was difficult to project how effective he might be in his return.
It didn't take long for him to prove that as a scorer, which is his primary role with his roster, he was highly effective.
Wearing a taped bandage on his thumb, Russell totaled 18 points on 7-of-13 shooting from the field, including 3-of-7 from beyond the arc. After a fairly pedestrian opening quarter, he was sensational after entering for the final 6:25 of the second frame, scoring 13 points on 5-of-5 shooting, including 2-of-2 from deep.
Though there were several occasions when Russell seemed to be affected by his thumb -- inspecting it, flexing it -- it did not prevent him from putting the ball through the hoop.
The Warriors have needed someone to generate offense, and Russell immediately looks ready to slide back into that role.
No D leads to parade of easy threes
The Warriors entered Wednesday's game with the fifth-worst 3-point defense -- opponents were shooting 42.7 percent from deep -- in the league. They might have moved a bit closer to absolute worst with this performance.
Charlotte, which ranked 11th in 3-point shooting (36.1 percent), surely made a leap toward the top.
With 6-foot-1 guard Devonte' Graham leading the way, the Hornets shot 44.7 percent (21-of-47) from beyond the arc. Graham was 10-of-16 from deep in pouring in a game-high and season-high 33 points.
What had to be particularly painful was that the Warriors undoubtedly knew what to expect from the Hornets and certainly from Graham. He has made more 3-pointers than everyone except NBA scoring leader James Harden.
Yet Graham feasted, mostly off open looks as the Warriors were slow to recover and inconsistent with their switching. His teammates weren't far behind.
[RELATED: From Saginaw to NBA star: Draymond reflects on the journey]
Gifts three weeks before Christmas
Even as they were losing games earlier this season, the Warriors were able to keep their turnovers down. That trend is reversing at the speed of light.
After committing 25 turnovers (while recording 17 assists) in a loss to the Hawks in Atlanta on Monday, the Warriors came out Wednesday and spread 17 gifts to the Hornets while ringing up only 16 dimes. The desired numbers are two assists for each turnover.
Though 17 turnovers are not an outrageous amount, it's devastating when so many of them are live-ball giveaways that trigger fast breaks the other way. Charlotte scored 20 points off turnovers.
Copyright C