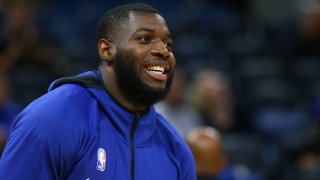 Here's a sentence Warriors fans would probably never thought they'd read: This will be a matchup of four-win teams when the Dubs head to Atlanta to face the Hawks.
Golden State will be playing in their third of a five-game road trip, and they have history on their side. The team has won nine straight meetings against the Hawks and have taken wins in 14 of the last 15.
Rookie Eric Paschall is on a tear averaging 18.4 points in his last 10 games. He will be guided by Draymond Green who is taking a lighter workload since returning from a right heel injury.
Here is how you can watch the Warriors-Hawks game:
When: Monday, Dec. 2, at 4:30 p.m. PT -- pregame coverage begins at 3:30 p.m.
TV Channel: NBC Sports Bay Area
Live Stream: MyTeams App
Copyright C