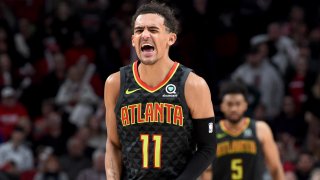 The seasons of the Warriors and their Southeastern offspring, the Hawks, have been so deeply sabotaged by unforeseen circumstances that one of them must walk off the court Monday night with a distinction neither desires:
Worst record in the NBA.
[WATCH: Warriors-Hawks live stream on the MyTeams app]
So, pride should be palpable when the teams meet at State Farm Arena. Pregame coverage on NBC Bay Area begins at 3:30, with tipoff scheduled for 4:40.
The Warriors (4-17) own the worst record in the league. Though they will have center/forward Kevon Looney for the first time since Oct. 24, they will be without forward Draymond Green.
Atlanta, at 4-16, only a half-game ahead of the Warriors, Is in Year 2 of an extensive overhaul under ex-Warriors personnel executive Travis Schlenk.
Both teams have been derailed by the loss of key players, leaving behind severely compromised rosters. While the Warriors have dropped five of their last six games, the Hawks are in the midst of a 10-game losing streak.
PROJECTED LINEUPS
Warriors
F Glenn Robinson III
F Eric Paschall
C Willie Cauley-Stein
G Alec Burks
G Ky Bowman
Hawks
F De'Andre Hunter
F Jabari Parker
C Damian Jones
G Cam Reddish
G Trae Young
INJURY REPORT
Warriors: G Stephen Curry (L hand fracture), G Jacob Evans III (L adductor strain), F Draymond Green (R heel soreness), G Damion Lee (R hand non-displaced fracture), G D'Angelo Russell (R thumb sprain) and G Klay Thompson (R ACL rehab) are listed as out. F Alen Smailagic is on assignment with G-League Santa Cruz.
Hawks: G/F DeAndre' Bembry (R hip contusion) is listed as probable. G/F Cam Reddish (L wrist sprain) is listed as questionable. G Allen Crabbe (Flu-like symptoms) is listed as doubtful. C/F John Collins (NBA suspension) and G Kevin Huerter (L rotator cuff strain) are listed as out.
[RELATED: Kerr will attend Draymond's jersey retirement at MSU]
ROTATION OUTLOOK
Warriors: Green's absence leaves the Warriors without their best playmaker, best defender and best communicator. There is no similar replacement in any of those areas, though the addition of Looney will help ... Whether Looney will start will be announced before tipoff, but his minutes will be restricted, likely in the 15-20 range. If he starts, it will be the Warriors' 12th different lineup this season ... With Looney available, joining Marquese Chriss, Omari Spellman and Cauley-Stein, the Warriors now have four players in the rotation capable of playing center or power forward ... Led by Paschall's 17.0 ppg, the team's rookies are averaging an NBA-best 34.0 ppg ... The Bowman-Young matchup should be fun to watch, as one takes pride in his defense (Bowman) and Young's 28.4 ppg ranks fourth in the league ... Today's available player count: Eight.
Hawks: The Hawks play inside-out, with Young comfortable launching from anywhere inside 35 feet but also willing to drive. With the big men attacking the rim, they rank fourth in paint points per game (52.8) . . . Parker, the No. 2 overall pick in 2014, has been a disappointment for much of his career – largely due to injuries – but is having a solid offensive season, averaging 16.8 ppg, At 6-8, 245, he's doing most of his damage in the paint. His 49 dunks rank fourth in the NBA . . . Alongside Young's deep shooting, Hunter has been a nice complement. The rookie from Virginia enters with a streak of 12 straight games with at least one triple . . . After three seasons with the Warriors, Jones still is seeking his NBA comfort zone. Early evaluation is mixed on his work since entering the starting lineup in place of Collins. Jones is averaging 6.9 ppg and 3.3 rpg . . . The Hawks rank sixth in forced turnovers per game (16.5), including forcing 28 in a game vs. Miami in the second week of the season. Yes, Vince Carter remains on the roster. If you've wondered where Chandler Parsons landed, look no further.
Officials: Tom Washington (crew chief), Scott Twardoski, Jason Goldenberg.
Copyright C