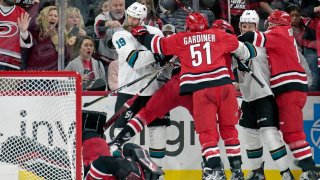 The Sharks went into Carolina, and a heavyweight title bout broke out.
Or at least that's how it sounded after San Jose's Joe Thornton sent Hurricanes goaltender Petr Mrazek flat on his back with a forearm shiver late in the second period Thursday night.
"And down goes Mrazek!"
"Joe Thornton went George Foreman." 💪

Download the #MyTeams app to stream: https://t.co/hargdU3eGL pic.twitter.com/rky9mbEDM3— Sharks on NBCS (@NBCSSharks) December 6, 2019
Mrazek didn't take kindly to Thornton digging at the puck as the whistle was blown dead, and reacted by attempting to violently slash the Sharks forward. He missed, and, well, that was the insult before the injury, as Thornton responded in kind, sending the netminder to the ice.
A closer look reveals that Mrazek can always take up acting if this goalie thing doesn't work out.
Replay of Jumbo's right cross 😵 pic.twitter.com/KXVSMqGDvc— Sharks on NBCS (@NBCSSharks) December 6, 2019
[RELATED: Watch Thornton, Caps' Wilson chirp after Kane ejection]
You've heard of 'old man' strength? Yeah, Thornton's got it.
Respect your elders.
Copyright C