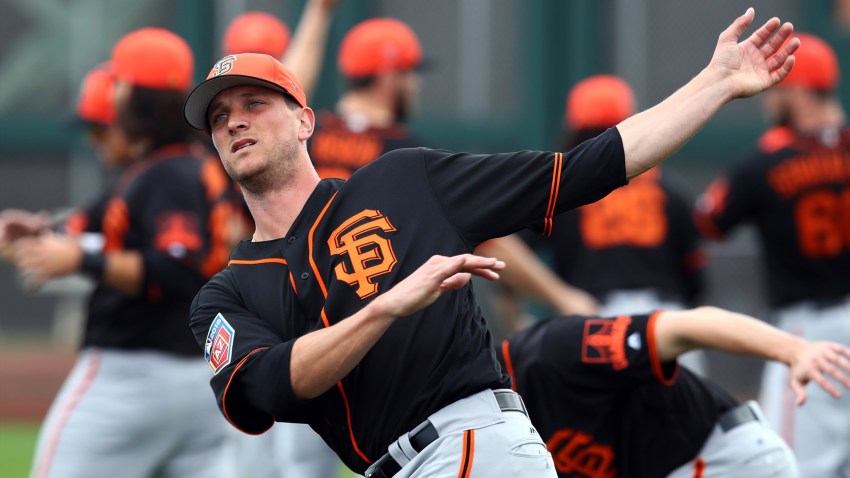 SCOTTSDALE - For all the talk about this slow free agent market, Tony Watson wasn't too upset in recent weeks. The left-hander went to Game 7 of the World Series with the Dodgers and didn't return home until the first week of November, so he was happy to have a few extra days with his wife and two kids.
On Monday, Watson finally jogged onto a spring training field. He joined the Giants for their first full squad workout and later in the day the team officially announced a two-year deal that includes a player option for a third year.
"Games start this week, so I'm right on time," Watson said, smiling.
To clear a 40-man spot for Watson, the Giants designated Joan Gregorio for assignment. The right-hander was once a good bet to pitch in the big leagues for the Giants, but he missed much of last season after testing positive for a banned substance, and he's far down the depth chart at this point.
Watson, on the other hand, shoots right to the top. With Will Smith out until about May 1 following Tommy John surgery, Watson will be Bruce Bochy's primary lefty in the bullpen. He'll pitch in the late innings, along with Mark Melancon, Sam Dyson and Hunter Strickland.
"He's used to pitching with the game on the line or late in the game," Bochy said. "We'll sit down with the relievers and establish roles, but it's just nice to have the number of guys we have who are used to pitching late in the ballgame."
Watson saved 10 games for the Pirates last season and he has 30 saves in his career, along with a 2.68 ERA and 1.09 WHIP. He has appeared in at least 70 games in each of the last four seasons, and if he keeps that up, he'll easily hit incentives that could more than double the value of his contract.
That kind of durability is usually rewarded early in the offseason, but Watson, a Scott Boras client, was patient as other relievers flew off the board. "I didn't really know until the last couple of weeks that we would get some momentum with this thing," he said. He arrived in Scottsdale on Sunday and passed a physical, locking the deal into place.
The Giants figure to throw Watson right into the fire. They face the Dodgers on opening day, and Watson said he's ready for the challenge provided by guys like Cody Bellinger and Corey Seager. The division is full of tough left-handed hitters, and Watson will be tasked with getting them out until Smith recovers.
"You start looking around and then you add Eric Hosmer in San Diego, and it starts adding up," he said.
The Giants are hopeful the math is in their favor. Over the last three years, Watson has held lefties to a .599 OPS, but he's no specialist. Right-handers have a .676 OPS against him during that time. That resume makes Watson the perfect fit as the last significant piece of an offseason overhaul, and he arrived in time to hear Bochy welcome newcomers to camp before Monday's workout.
As Watson looked around the room, he felt comfortable that he made the right decision. He insists this is a contender, noting that every time he faced the Giants last year he looked out and saw plenty of talent.
"Just playing against them last year, it just didn't seem like a 98-loss team," he said. "You don't take these guys lightly just because of their record. They're still the same guys (as previous years). I don't know what happened, I can't speak to what happened (last year), but this wasn't a 98-loss team."
Copyright CSNBY - CSN BAY