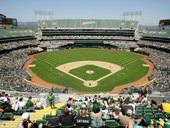 The O is about to become the new home of the A's and Raiders. No, Oprah did not buy the naming rights to Oakland Coliseum; Overstock.com did.
The Oakland-Alameda Coliseum Authority will make the purchase official this morning. It will be the stadium's fourth name in 47 years.
The Coliseum has been nameless since 2008, when McAfee, Inc. decided having its name on the building wasn't worth the $1.3 million per year.
When the new name is approved, the Coliseum will become the "Overstock.com Coliseum", that is until Overstock changes its name to O.co. That name change is an effort by the online company to gain customers throughout the world.
The Oakland Tribune reports there is a special provision in this deal. If either the A's or the Raiders decide to leave the Coliseum, Overstock can back out of the naming rights deal.