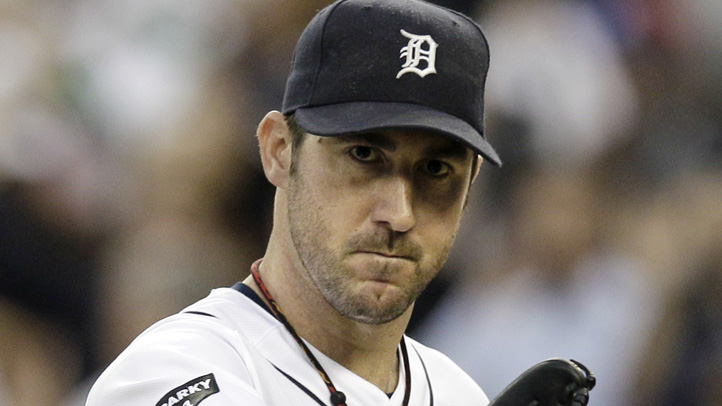 The San Francisco Giants will face one of the best pitchers in Major League Baseball Wednesday night in Game 1 of the World Series.

The numbers don't lie. In 24.1 postseason innings pitched, Verlander is 3-0 with a 0.74 earned-run average and just 10 hits given up. He also has held opponents to a .122 batting average and a minuscule 0.62 WHIP (walks and hits per innings pitched).

Despite Verlander's great postseason numbers, here's a few reasons why Giants fans shouldn't panic:

• Verlander gave up five earned runs in the first inning of the 2012 All-Star Game. One of those big hits came from Pablo Sandoval, who hit a three-run, bases-loaded triple off Verlander in that inning.
• Giants' hitters have shown the ability to turn on a high-velocity fastball. Brandon Belt launched an inside 98-mph fastball out of the ballpark in the eighth inning of Monday's National League Championship Series Game 7. Similarly, Pablo Sandoval pulled a home run off St. Louis Cardinals flamethrower Mitchell Boggs in the eighth inning of NLCS Game 5 in St. Louis.
• Some Giants have had success against Verlander. Leadoff hitter Angel Pagan is 2-for-5 with an RBI against Verlander, and Hunter Pence is 1-for-3 with an RBI. Xavier Nady and Aubrey Huff also have RBIs against Verlander.
If the Giants can continue to string together quality, scrappy at-bats against Verlander, they should be able to scratch out a few runs. With the big, spacious dimensions of AT&T Park and the humid air knocking the ball down, tonight's World Series Game 1 could end up being a pitcher's duel between Verlander and Giants starter Barry Zito

Zito said at a news conference on Tuesday that he was excited and ready for the challenge.

"Yeah, it means a lot," Zito said. "Like I said earlier, it's hard to reflect and really become third person about this experience. It's more about right now just going out and preparing for a ballgame against a good team. You know, I can look back on everything when I'm back home."

The Giants and Tigers will play each other in the World Series starting at 5:07 p.m. The two teams have never battled each other in the World Series.