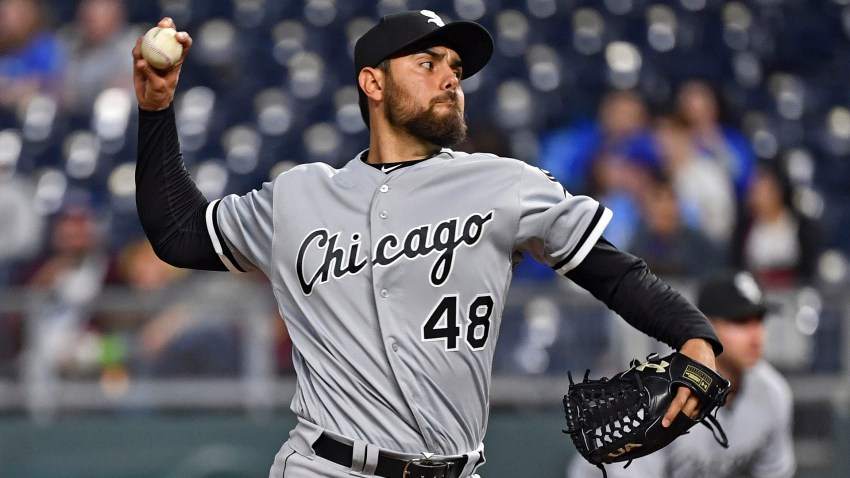 SAN FRANCISCO - On Sunday, the Giants got an up-close look at Jeurys Familia, a closer acquired by the A's. At some point in this weekend, they'll likely see Joakim Soria, a closer acquired by the Brewers on Thursday morning.
Soria adds to what already was a good back end of the bullpen for the Brewers, who play four at AT&T Park, and a month ago, he seemed like the type of player who would be a perfect fit for the Giants. The situation in San Francisco has changed, and for the better.
A team that was looking for a right-handed bat and right-handed relief help now feels pretty comfortable in the bullpen, with an intriguing rookie finding his stride and a former closer on the way back.
Hunter Strickland will not return as the closer, not after he punched a door and put himself on the 60-day DL. But he should be back when eligible on Aug. 18, and that will give Giants manager Bruce Bochy a durable right-handed arm to throw in the seventh and eighth innings. The bigger development has come with a minor league addition.
Since a rough debut, Ray Black has been unbeatable, mimicking the numbers he put up in the minors. Black gave up a three-run homer the day he was called up but hasn't allowed a hit in six appearances since. He has eight strikeouts in those six dominant innings while checking off a couple of important boxes given his injury history. Black has twice pitched on back-to-back days and went multiple innings over the weekend in Oakland.
Throw Black and Strickland in with Sam Dyson, Reyes Moronta and Mark Melancon, and you have some solid depth from the right side. All are under team control next season, which should allow the Giants to avoid the relief market this offseason and focus their dollars elsewhere.
For the time being, they'll need that depth, too. The Giants play plenty of close games and have gone up against some tough late-inning combinations the last couple weeks.
The Brewers now have one of the best in the league. They already throw Josh Hader and Corey Knebel at teams, and Soria is having one of his better seasons. The 34-year-old had a 0.74 ERA in his final 23 appearances for the White Sox.
The Giants would be smart to get early leads this series and hand the ball to their own back-end guys, avoiding Soria and his new teammates, who lead San Francisco by 5.5 games in the NL wild card race.
Copyright CSNBY - CSN BAY